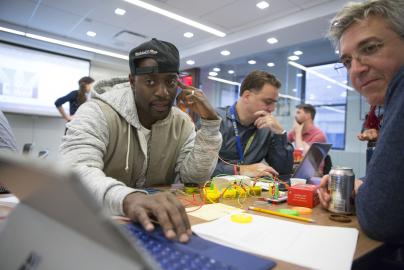 MƒA Impact 
MƒA regularly collects qualitative and quantitative data from teachers in the fellowship community which is used for program administration and program evaluation. In addition to using this data internally to continually improve the fellowship experience for teachers, we share what we learn about MƒA's impact in a variety of formats, including public-facing reports and special communication pieces such as MƒA Stories. 
The reports below provide an overview of our community of teachers, highlight the dynamic and evolving range of innovative professional learning experiences our teachers are engaged in, and demonstrate the ways in which MƒA teachers are bringing new ideas about STEM teaching and learning to classrooms and schools across New York City.
Recent Reports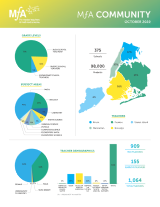 MƒA Fact Sheet October 2022
This two-page report provides the most up-to-date data about our current MƒA teachers, explains our fellowship model, and demonstrates MƒA's impact.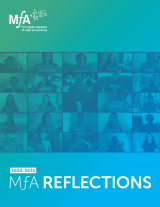 MƒA Reflections 2020-21
In the 2020-21 school year, all of MƒA's workshops were held online. Despite the challenges teachers in New York City faced beginning a new school year with remote instruction, attendance at MƒA's online workshops was higher than the fall semester of 2019. Throughout the 2020-21 school year, MƒA teachers continued to turn to their peers in the MƒA community to collaborate and support each other across distances and differences in order to provide excellent STEM instruction to students in New York City.
Over 300 MƒA teachers observed an increase in students' interest in pursuing STEM in college or careers as a direct result of incorporating new resources or strategies learned at MƒA into their teaching. 
Over 500 MƒA teachers created new partnerships between their schools and other organizations as a result of ideas, resources, and relationships from MƒA. 
800 MƒA teachers said their professional learning experiences at MƒA strengthened their implementation of culturally responsive-sustaining education practices at their schools.