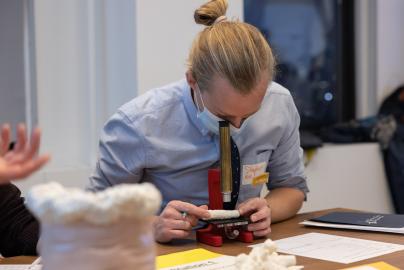 Past Reports
MƒA regularly publishes reports that provide an overview of our community of 1,000+ teachers, highlight the dynamic and evolving range of innovative professional learning experiences our teachers are engaged in, and demonstrate the ways in which MƒA teachers are bringing new ideas about STEM teaching and learning to classrooms and schools across New York City.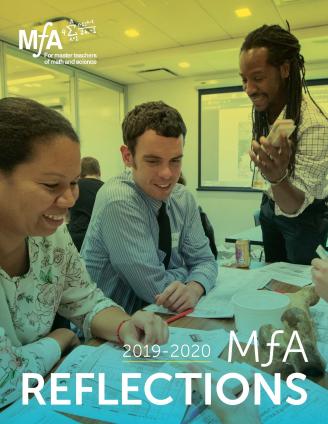 MƒA Reflections 2019-20
Prior to the spring semester of the 2019-20 school year, MƒA's fellowship model was centered around in-person collaboration. On any given night during a typical academic year, hundreds of teachers from all over New York City gather in MƒA's classroom spaces to participate in professional learning opportunities with their peers.
By March of the 2019-20 school year, when New York City entered lockdown as a result of the COVID-19 pandemic, teachers across the entire public school system switched to remote teaching with only a few days' notice. When schools went virtual, MƒA went virtual, too. We moved workshops to Zoom and adapted the content of workshops to address new challenges presented by the pandemic, creating space for teachers to share and discuss strategies for remote teaching, utilizing education technology tools, and supporting students' social-emotional health. Read the full report.
More than 75% of MƒA teachers said that they regularly incorporate resources and pedagogical strategies from MƒA workshops in their instruction on a weekly or daily basis.
92% of MƒA teachers said that ideas from MƒA have been shared and been incorporated into topics for professional development within their department
88% of MƒA teachers said that ideas from MƒA have been shared and been  incorporated into approaches to teacher collaboration and planning within their department  
"The impact of MƒA is not solely within that one teacher and their own professional life. There's a sphere of influence MƒA teachers have in their schools. We should look at the impact of MƒA as an injection of creativity and invigoration of the teaching profession into a school, which impacts teachers beyond the fellowship - whether it's through professional development workshops or just talking to your colleagues about the profession or sharing the things that you learned."