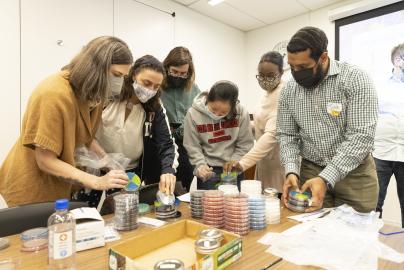 Teacher Learning
MƒA brings more than 1,000 teachers together from schools across NYC to collaborate and explore cutting-edge content, innovative teaching practices, and research-based professional development models. Our teachers are the core of a vibrant academic community that includes mathematicians, scientists, and other education experts.
Teachers propose, design, and lead more than two-thirds of the professional learning opportunities at MƒA. We provide resources that help teachers create and facilitate learning experiences for their peers and colleagues that are welcoming, engaging, inclusive, and focused on improving teaching and student learning.
MƒA teachers bring new ideas and practices back with them to their schools, and schools often make substantial changes to their STEM curriculum and approaches to professional development based on input and suggestions from MƒA teachers.
This section of our site includes some of the resources offered for professional learning at MƒA. They are freely available to be adapted and used by anyone seeking to create professional learning experiences that benefit students, teachers, and schools.