Our Fellowships
MƒA Master Teacher Fellowship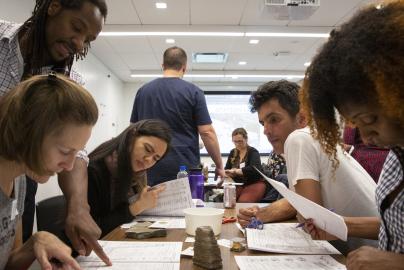 About the MƒA Master Teacher Fellowship 
The MƒA Master Teacher Fellowship is for accomplished New York City mathematics and science teachers who teach in hundreds of public schools across all five boroughs. During the four years of the fellowship, teachers form a powerful community, learn from one another, innovate instruction, and bring new ideas back to their classrooms. 
The fellowship keeps teachers excited about the profession and where they are needed most - in the classroom. 
Who are MƒA Master Teachers? 
Most teachers in the MƒA Master Teacher Fellowship are experienced mathematics and science educators
MƒA teachers have on average more than 10 years of teaching experience
About one-third of our Master Teacher community consists of exceptional early career teachers with between two and four years of teaching experience 
What do MƒA Master Teachers do during the four years of the fellowship? 
Design, lead, and participate in math and science-focused professional development courses from the MƒA Course Catalog 
Attend in-person and virtual workshops over the course of the school year and participate in a wide variety of events, lectures, and community gatherings
Build relationships with one another that are a source of inspiration, share teaching resources, and support each other's professional growth
Bring what is learned at MƒA back to their school community
What resources does the fellowship provide? 
$60,000 in stipends over four years
Opportunities to build relationships in a dynamic community of inspiring mathematics and science teachers
Access to high quality, STEM-focused, professional growth and enrichment opportunities throughout the school year 
Additional funding for conferences, travel, and classroom materials