Press Releases
Queens and Manhattan Teachers Win Distinguished MƒA Muller Award and $20,000 Prize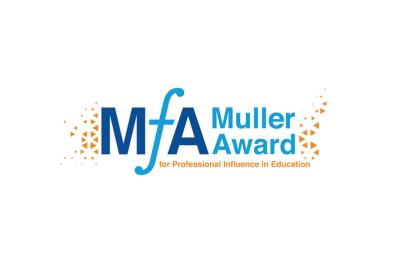 Teachers from Bayside High School and Urban Assembly School of Design and Construction have influenced the teaching profession in exceptional ways
NEW YORK, NY – Math for America (MƒA) today announced that high school mathematics teacher Larisa Bukalov, who teaches at Bayside High School in Queens, and high school biology teacher Ellie Williamson, who teaches at the Urban Assembly School of Design and Construction in Manhattan, have each been awarded the 2023 MƒA Muller Award for Professional Influence in Education. This honor is given to two New York City public school teachers who, during their tenure as MƒA Master Teachers, have influenced the teaching profession in exceptional ways.
Bukalov and Williamson will each be recognized for their impact on the teaching profession and awarded $20,000 during a ceremony on Tuesday, June 6, 2023. In addition, $5,000 will be awarded to each teacher's nominating institution. The reception begins at 4:30 p.m. at the Ingrid Daubechies Auditorium at 162 Fifth Avenue in New York City with the award ceremony to follow at 5:45 p.m. 
These awards are made possible by financial support from MƒA Board Member Peter Muller and his family through their Dancing Tides Foundation
MƒA Muller Award for Professional Influence in Education Winners
Larisa Bukalov, 16-year MƒA Master Teacher
Image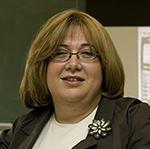 Larisa Bukalov has taught mathematics in New York City for the past 25 years, most recently at Bayside High School. Bukalov has taught all levels of math from pre-algebra to calculus, coached numerous math teams, and created math research programs. She has mentored student teachers, facilitated professional development workshops, presented at national conferences, and co-authored The Math Teacher's Toolbox (Jossey-Bass, 2020) and Practical Algebra: A Self-Teaching Guide (Jossey-Bass, 2022).
Born in the USSR, Bukalov simultaneously graduated from a specialized math school in Ukraine and a distance learning school at Moscow State University. After emigrating to the United States, she learned English while earning a bachelor's degree in math and master's degree in math education from Queens College, CUNY. 
After the Russian invasion of Ukraine, Bukalov became the Mathematical Association of America's liaison to Ukraine. She has collaborated with university professors from Kiev State University and the Ukrainian Ministry of Education to help educate Ukrainian teachers on best practices to foster equity in the classroom and has provided academic, social, and emotional support to Ukrainian students. 
She is a five-time MƒA Master Teacher and a 2017 recipient of the Queens College Excellence in Mathematics Award for promoting mathematics teaching as a profession.
Bukalov is being awarded for her commitment to developing current and future mathematics teachers through mentoring, modeling, authorship, and the design of professional learning experiences.
"I am truly grateful to be recognized for winning the MƒA Muller Award, acknowledging my leadership and commitment to helping teachers and students in need of academic support," said Bukalov.
"As a first-generation American, I had personal experience struggling in school because I wasn't proficient in English. By working with colleagues at institutions like Bayside High School, Queens College, and MƒA, I have learned that incorporating literacy and language teaching methods in our mathematics classrooms provides better support to all students and alleviates their math anxiety. As teachers, we must share ideas and practices to better build our students' mathematical identity."
Ellie Williamson, 10-year MƒA Master Teacher
Image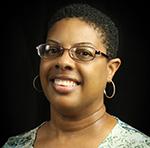 Ellie Williamson has taught science for over 24 years in Jamaica, Canada, and New York, and has spent the past 14 years at the Urban Assembly School of Design and Construction (UASDC). At UASDC, Williamson has served as department chair, curriculum coordinator, mentor to new and student teachers, and member of the school's equity team. She has been an adjunct lecturer at Brooklyn College, Hunter College, and Lehman College and presented at national conferences. She's also authored a book chapter, "Can You Get What You Really Want? A Jamaican-Born Science Educator Reflects on Success Attainability," which appears in A Paradise to Regain (Myers Education Press, 2019).
Williamson earned a B.S. in Botany and Zoology from the University of the West Indies, Mona Campus, and an M.S. Ed in Science Education from Lehman College. She is currently a Ph.D. student at the CUNY Graduate Center, where she researches technology in education, science teaching, and learning. 
Williamson collaborates with teachers across the state and country on content-related topics and pedagogy. She has facilitated MƒA Professional Learning Teams on literacy in science and mentored early career teachers and master teachers who are new to the fellowship program.
She is a three-time MƒA Master Teacher and a 2018 recipient of the Shell Urban Science Educators Development Award that supports educators in pursuit of professional development.
Williamson is being awarded for her commitment to professional growth and her work leading and sustaining professional learning communities that serve other teachers. 
"I am deeply humbled to receive the MƒA Muller Award. The award itself is a great honor as is being a part of MƒA, an organization that has played such a significant role in my professional growth as a teacher," said Williamson.
"Our collective work as mathematics and science educators is difficult, important, and timely. Although some may not see the value of this work, we mustn't forget the impact we have on our students. Let's continue teaching our students to be critical and creative thinkers who question and counter harmful narratives about themselves and their capabilities."
An External Committee selected the finalists for the award by considering the nominees' contributions to the math or science teaching profession, including their ability to have a positive impact within their school community and drive change outside of their own classroom, leadership within the broader math or science community, and influence on inspiring other teachers to stay in the profession. A committee of the MƒA Board of Directors chose the two winners, one in math and one in science.
The External Committee is comprised of experts in mathematics and science education, including:
Sylvain Cappell, Professor of Mathematics, Courant Institute of Mathematical Sciences, NYU
Jeanne Garbarino, Director of Science Outreach, Rockefeller University
Po-Shen Loh, Professor of Mathematics, Carnegie Mellon University
Latasha Wright, Chief Scientific Officer, BioBus
The MƒA Muller Award for Professional Influence in Education is awarded annually to two teachers, in math and science, who have taken a prominent role as leaders among the MƒA teacher community and beyond. Read more about the award and past winners here.