Press Releases
MƒA Awards Prestigious Fellowships to New York City Teachers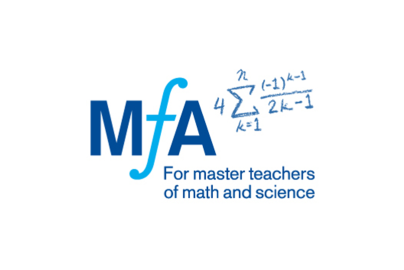 Nonprofit positions 900+ STEM leaders to take on leadership roles in local schools
NEW YORK, NY - Math for America (MƒA) today announced that 112 New York City K-12 public school teachers have been awarded prestigious four-year MƒA fellowships. These experts in education join the larger MƒA community which now grows to more than 900 highly accomplished mathematics and science teachers. MƒA Master Teachers teach in nearly 400 schools across all five boroughs reaching approximately 100,000 students while leading and growing through MƒA's professional development program. Teachers can be awarded up to five Master Teacher fellowships and spend up to 20 years of their careers as part of MƒA.  
Each semester MƒA teachers can choose to participate in more than 400 high-quality STEM-focused workshops and events tailored to their specific needs and interests, 75% of which are led by the teachers themselves. Throughout their fellowships, MƒA teachers increasingly take on leadership roles, expanding their influence at MƒA, in their schools, and in the profession. During the 2022-2023 school year:
More than 700 MƒA teachers mentored a teacher or student teacher at their school while more than 400 mentored fellow MƒA teachers.
More than 500 MƒA teachers took on formal leadership roles at their school, such as department chair or grade team leaders. 
More than 700 MƒA teachers facilitated PD within their department at their school while more than 500 facilitated school-wide PD.
"All of us at MƒA welcome this new cohort of accomplished Master Teachers," said MƒA President John Ewing. "They join an outstanding community of MƒA teachers who already lead the profession, inspiring not only their students but their colleagues as well."
Image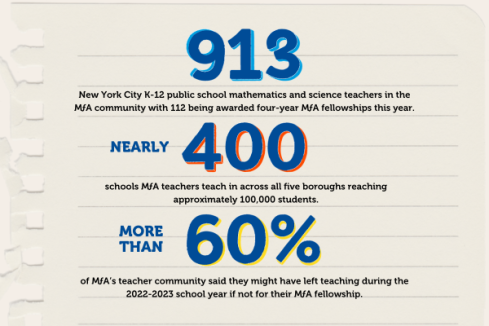 MƒA's focus on teacher-to-teacher leadership and learning often extends beyond the MƒA fellowship community as teachers are encouraged to strengthen their impact on their students, colleagues, and networks. Some examples from previous years include:
MƒA Master Teachers Melissa Singer and Sophie Brady, who teach at PS 130 and PS 8 in Brooklyn, built a collaborative multi-school network based on the MƒA model for elementary math teachers to drive their own professional development and see themselves as leaders. 
MƒA Master Teacher Susie Lie, who teaches at PS 126 Jacob August Riis in Manhattan, transitioned from teaching mathematics to computer science after drawing confidence from the resources, knowledge, and leadership opportunities provided by MƒA. 
MƒA Master Teacher Derek Dubossi, who teaches at Fiorello H. LaGuardia High School of Music & Art and Performing Arts in Manhattan, presented a TEDx style MƒA talk to hundreds of fellow teachers where he learned how growing as leaders outside the classroom helps teachers bring more of themselves into the classroom.
"As a classroom teacher, you have to have some level of confidence to stand up in front of students and command their attention, but I had never had an opportunity to command an audience of peers (before my MƒA talk). MƒA opens a door and really encourages teachers to do things like that… It gives you the space to look outside that traditional lens of what a teacher is and reach new heights as a leader."
- MƒA Master Teacher Derek Dubossi
Nearly half of all public high schools have STEM teachers in MƒA's fellowship program, and more than 60% of MƒA's teacher community said they might have left teaching during the 2022-2023 school year if not for their fellowship. MƒA teachers receive $60,000 in stipends over four years of the fellowship. Cities and states have adopted the MƒA model to create publicly funded fellowship programs showcasing that MƒA's model works in rural, urban, and suburban school districts.
2023 By the Numbers
More than 900 MƒA Teachers in nearly 400 NYC Public Schools
More than 675 high school teachers
More than 150 middle school teachers
More than 50 elementary school teachers
More than 400 teach math 
More than 500 teach science 
Over 550 MƒA teachers teach in high poverty schools
Borough Breakdown
More than 300 teach in Manhattan  
More than 225 teach in Brooklyn 
More than 150 teach in the Bronx
More than 125 teach in Queens 
More than 40 teach in Staten Island
Teaching Experience
More than 550 have been teaching for 10 or more years 
More than 275 have been teaching between five and nine years 
More than 40 have been teaching between one and four years