Stories
Leadership Inside and Outside the Classroom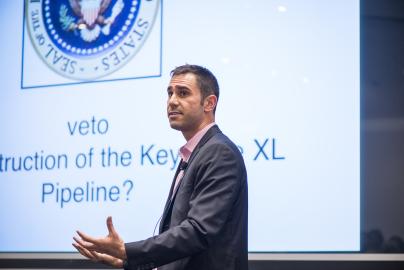 How MƒA helped Derek Dubossi reach new heights with his students and share knowledge beyond his school.
Looking back, Derek Dubossi sees the 5th Annual MƒA MT²: Master Teachers on Teaching event as a pivotal moment in his professional growth and development as an educator. In a presentation he gave to a crowd of some 200 fellow teachers, Dubossi shared what happened when he led his earth science students at Fiorello H. LaGuardia High School of Music & Art and Performing Arts in a debate about a high-stakes environmental issue, the Keystone pipeline.
He related how the exercise energized and engaged his students as they interviewed real-life stakeholders in the debate and presented varying sides of the issue to each other. Instead of feeling anxious, isolated and fixated on a grade or test score, the students were collaborating with each other and grappling with a complex issue that mattered to them. How, Dubossi asked the audience, could teachers manage this shift even mid-school year, when high-stakes tests still loomed on the horizon? He admitted he didn't yet know the answer to that question, but hoped his talk could serve as a jumping off point for more discussion and inquiry.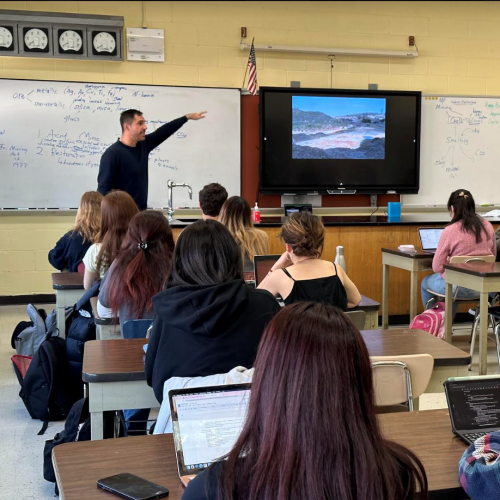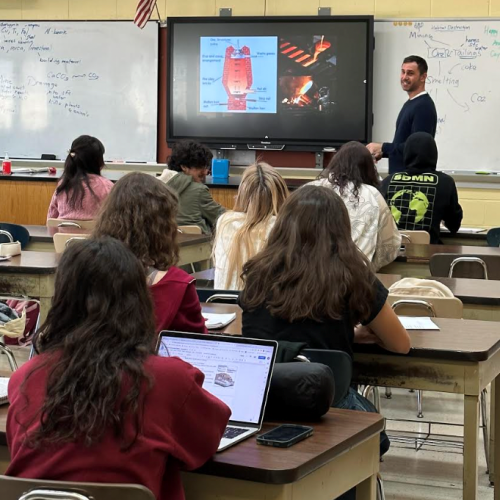 By the time he presented to that MT² audience in 2016, Dubossi was already an MƒA Master Teacher and a confident, experienced educator, having launched his teaching career in 2001 after serving in the Peace Corps and pursuing training through Columbia University Teachers College. But that MT² event, and the support and preparation MƒA provided him before his presentation, helped him realize he could be an exemplary teacher for his students as well as a leader outside of his classroom.
"As a classroom teacher, you have to have some level of confidence to stand up in front of 34 students and command their attention, but I had never had an opportunity to command an audience of peers [before]," Dubossi says of the experience, which included working with an acting teacher to figure out how to better bring his personality into his presentation. "MƒA opens a door and really encourages teachers to do that."
Dubossi's new sense of confidence and willingness to take on a leadership role only grew in the years that followed. In the summer of 2019, he applied to participate in a conference with teachers from around the country aimed at finding more creative ways to present earth science education to students. Not only was he accepted — he was asked to sit on a panel and deliver a talk, which he based on the presentation he gave at MT².
"MƒA forces you to be better. It gives you the space to look outside that traditional lens of what a teacher is." 
Then the educational company Quizlet selected Dubossi as one of their Teacher Appreciation Week winners, and invited him to talk about virtual learning in their Global Unconference, held online in the spring of 2020. Fueled by his past successes, he felt confident presenting to a global audience, and was inspired by the experience to create a Professional Learning Team (PLT) to explore assessments in virtual spaces with his MƒA peers. "I took those protocol skills, the facilitation skills, and requested to have a PLT where teachers could come together and start sharing and collaborating about how they would assess students virtually," he recalls.
Dubossi also thought more creatively about his work in the classroom, designing a new elective in which his students work in teams to develop podcast series about different real-world case studies related to environmental science.
"They have a whole portfolio of episodes that reflect on these environmental issues, including things like the water crisis in Flint, Michigan and the damming of the Colorado River," Dubossi says. "They're reaching out to stakeholders, they're talking about these issues, they're bringing their art into it." After hearing from a majority of his students that they learned more during this exercise than through traditional assessments, he's now seeking to gather more data to make his own comparisons. Pushing himself out of his comfort zone to help students excel is part of what makes Dubossi feel like a Master Teacher.
"I feel more comfortable about bringing myself into the classroom for the benefits of my students, and that really stems from the opportunities to meet with other professionals, share with them, and get ideas of what other people are doing," Dubossi says. "Dialogue is so important to creativity, and any creative element in my class has been born out of the collaboration and the connections that MƒA gave me."
In addition to financial support, Dubossi says MƒA has provided him with the structure and external motivation he needed to lead and grow in ways he wouldn't otherwise have been able to. "MƒA forces you to be better," Dubossi says. "It gives you the space to look outside that traditional lens of what a teacher is."