The State of STEMocracy: MT² and Election Night 2016
Teacher Voices | November 17, 2016
Every month we feature an opinion piece written by teachers in the MƒA community. Welcome to MƒA Teacher Voices.
By Molly Shabica, MƒA Master Teacher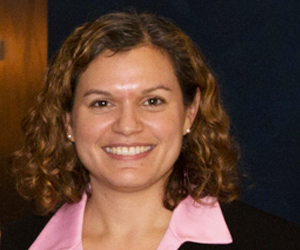 I highly anticipated this year's theme of MT²: Master Teachers on Teaching, the State of STEMocracy in education – not only for its stand-alone interest, but for the actual date on which it was held. Election night 2016. I (and many of you) had imagined a very different outcome.

Math for America has been a haven for skilled, smart, and thoughtful math and science teachers. We look to it now more than ever as we enter unknown territory to continue its work in supporting a community of teachers who tirelessly strive for a fair, balanced, just, and equal society for all.  

As Andrew Wille voiced at the beginning of his talk, MT² is one of my favorite evenings of the year. I am now in my fourth year of fellowship with MƒA and it has always been one of the first "courses" for which I've registered. 

MT² is not to be missed. It is a moment where your colleagues shine. It is a moment where you gain incredible depth into what is going on in another teacher's classroom. It is a moment where a teacher's raw personalization of their practice is both humbling and inspiring and leaves you wanting to work harder when you go to work the next day. The nine speakers on November 8th did not disappoint. Each brought their own unique voice along with humor and much needed humanity.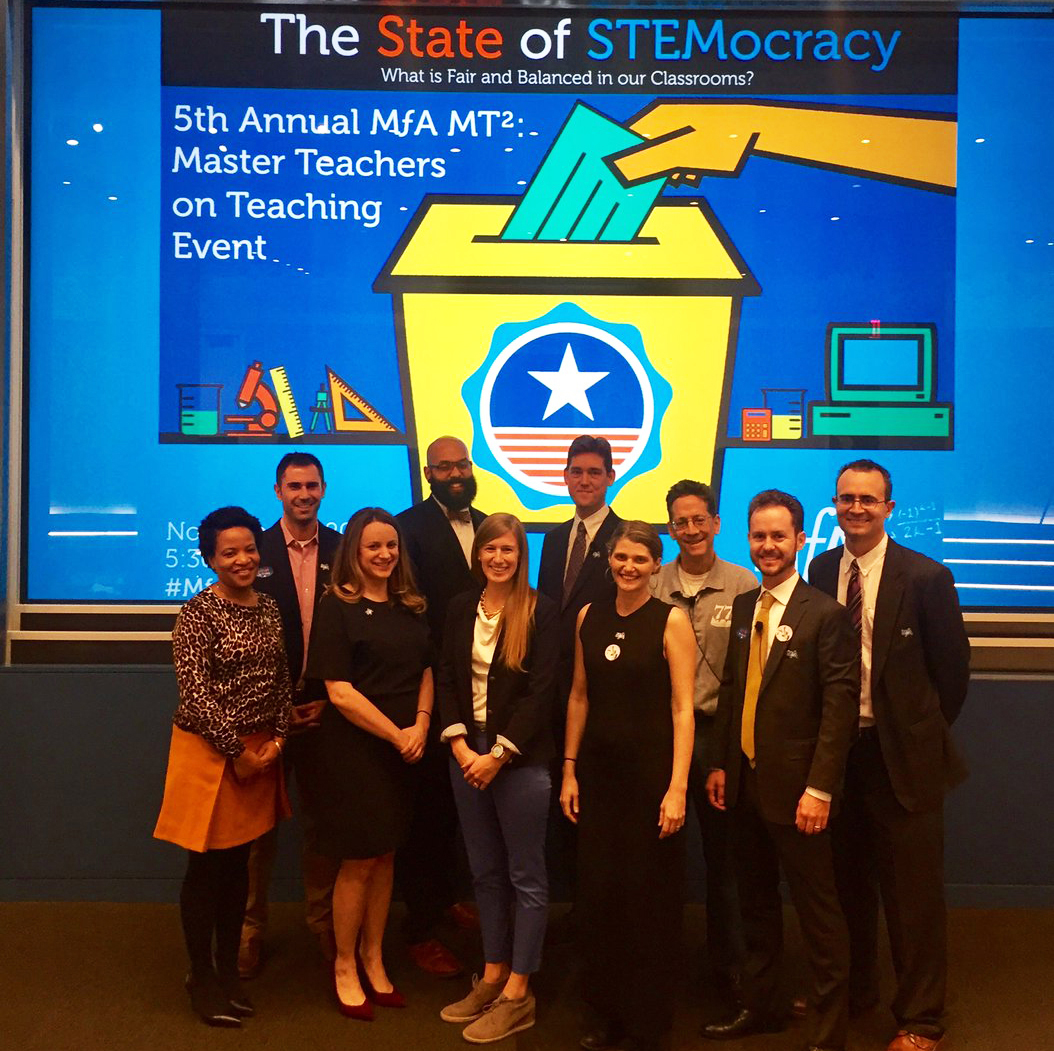 MƒA Master Teachers Shannon Guglielmo, Alexander Dvorak, Adam Zaid, Marcelle Good, Andrew Wille, Marvin Antebi-Gruszka, Stacy Goldstein, Derek Dubossi, and Vielca Anglin in their own individual narratives succeeded in creating an interwoven story of what a fair and balanced classroom can look like as well as the educational ideals that hold us steadfast and strong. Many speakers shared specific examples of student choice and voice in their classrooms that resulted in higher learning and higher achievements.

Shannon kicked off the evening with graph theory, sharing how her students pushed the evolution of her unit to have an intimate connection with the NYC subway system. This connection and real-world context gave her students access to and interest in a challenging mathematical concept. 

Alexander searched to inspire his students by exploring the moments when he himself was inspired. He successfully created a space in his classroom where kids can read and be motivated by scientist voices. Through reading he provided his students a gateway to both the beauty of science and a deeper contextual understanding of concepts. 

Stacy's classroom is filled with student voices. She uses models for students to analyze concepts prior to applying scientific vocabulary. By having students work in small groups and even argue and debate the content, they gain a proficiency that would likely be elusive when using more traditional methods. 

"You can't teach kids if you don't know what they know. You can't teach kids if you're not meeting them where they're at." Marcelle connected literacy practices to the math learning in her own classroom. Her ability to let her students have a voice and listen to what they say during one-on-one instruction gave her the capacity to target practice to their individual levels, and place students in small groups. Her students trust her and that allows the most learning to happen. 

Marvin does not let "I don't know" end the learning process; he uses it as a place to begin. "Saying I don't know lets students express where they are." By turning the acronym IDK into one of inquiry into information, rather than a dead-end response, Marvin's gentle embrace of confusion and ignorance gives his students much more power and voice in their learning. 

More power and voice in their learning is what Derek might term using "calls to action" to create a space in his classroom and curriculum for economic and politically charged topics in science. His students initiated a debate about the Keystone Pipeline. Motivated by an internal desire, they researched all sides of the issue, learned a lot of content, and interviewed the actual stakeholders in the current situation. 

Vielca also searched for content that would inspire students by an internal desire to learn. She teaches 16-21-year-old transfer students and wanted them to be more connected with their own curriculum and learning. She attributes her process into design thinking partially to her father who built her a swing back when she was little. By listening to her students and honoring their lived experiences and values, she could make education less of a transaction and one where students have more agency, an education where students see their powerful roles in community and society. 

On November 8, 2016 – election day – there was nothing more powerful to me than entering the voting booth and participating in our own democracy. I was excited to have my own choice and voice expressed in this way. 

Of course, mathematicians Andrew and Adam gave me pause during MT² . 

Andrew delivered his third MT² presentation. Beginning with Zeno's paradox of infinite regression, he asked, "Can we learn anything from an infinite process?" The human condition is to seek things that are fair and balanced when these two things do not exist. Are we simply tasked with trying to get closer and closer to a fair and balanced society (or election) while knowing that it is similar to falling down a rabbit hole? Perhaps Andrew had more predictive powers than me. 

More directly, Adam confronted what is fair and balanced by exploring voting and voting methods in his classroom. He explored the Borda (look at the results in Maine!) and Condorcet voting methods to decide which toppings to serve at an ice cream party he held for his mathematics class. His students gained more than hot fudge or whipped cream during this unit. They concluded that there is no one voting method that can produce the fair and balanced results one seeks in an election. I'd love to hear his students' thoughts on the electoral college.     

If education is the civil rights issue of our age, then the ideas shared at the 5th Annual MT²  by these nine MƒA Master Teachers prove that we are in good hands. Our students are given more choice and more voice in their own education, and these teachers have an astute vision, not only for meeting students where they're at, but pushing them beyond to reach their dreams.

I am constantly humbled by my colleagues at MƒA and by the organization's powerful and thoughtful staff. Now more than ever I find myself searching for spaces like MƒA where intelligence is honored and the core of our humanity is measured by the lives we touch.

While so much has come into question over the past week I know one thing for sure: MT² allows us to say, "This is who we are."
Molly Shabica has been a science teacher at Fannie Lou Hamer Freedom High School since 2002. She is currently in her fourth year of her Master Teacher Fellowship with MƒA, and she presented at last year's MT².