Math for America Teachers to Be Focus of Highly Selective, $1.7M National Science Foundation Grant
Press Releases | July 16, 2019
NEW YORK, BUFFALO, CHICAGO & MONTCLAIR - July 16, 2019 - Math for America (MƒA), a nationally recognized STEM nonprofit, announced today that its innovative video library, which features MƒA teachers implementing high-quality mathematics lesson plans in their classrooms, will be the focus of a highly-selective Discovery Research prek-12 (DRK-12) grant from the National Science Foundation. DRK-12 grants are awarded each year to projects that have the potential to transform the education system in radical ways.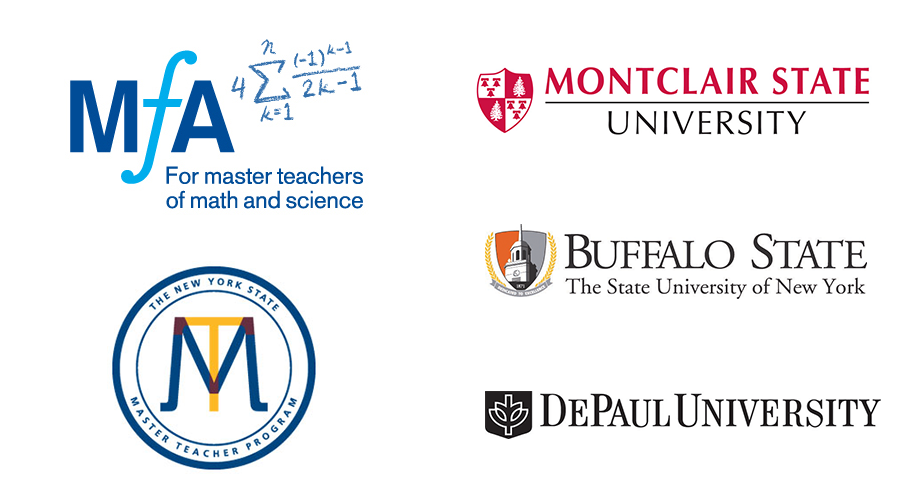 The $1.7 million DRK-12 grant was awarded to Montclair State University, the State University of New York Buffalo State, and DePaul University, working in collaboration with MƒA, The New York State Master Teacher Program, and the DePaul STEM Center. The funding will support teacher-leaders in different cities across the country as they implement high-quality lesson plans, create new videos for the MƒA library, and collaboratively investigate them in order to understand how to teach the lessons more effectively. The team at Montclair State University will study what teachers learn and how they share that information with others, to learn how similar initiatives can be scaled nationwide.
"This project gives teachers opportunities to see into one another's classrooms, which is still far too rare in the U.S.," said Michael Driskill, chief operating officer at MƒA. "The model works because it trusts teachers to figure out how to implement the lesson plans most effectively."
"In this innovative professional development model, teachers use videos to break down complex teaching situations and think about what can be improved," said Dr. Eileen Murray, assistant professor at Montclair State University and principal investigator for the grant. "It's similar to how professional athletes use video to review what worked and what didn't in games."
The project was selected because it addresses the pressing national need to generate shared, classroom-based knowledge about how to implement freely available, high-quality instructional resources that have been shown to improve student learning outcomes. The video library can be accessed by creating a free account at the Teaching and Learning Exploratory, a video repository created by the University of Michigan to house collections of teaching videos. The lesson plans implemented in the videos are available for free at the Math Assessment Resources Service.
About MƒA:
At MƒA, we've created fellowships for accomplished mathematics and science teachers. Our model is based on the belief that collaboration, continued learning, and genuine respect enables teachers to grow professionally and provides long-term career satisfaction. This is a remarkable community of teachers who stay in the profession longer and define what teaching excellence means. These are teachers who inspire and motivate their colleagues. They change the lives of their students. Learn more at MathForAmerica.org.
About Montclair State University:
Montclair State University is a research doctoral institution ranked in the top tier of national universities. Building on a distinguished history dating back to 1908, the University today has 11 colleges and schools that serve 21,000 undergraduate and graduate students with more than 300 doctoral, master's and baccalaureate programs. Situated on a beautiful, 252-acre suburban campus just 12 miles from New York City, Montclair State delivers the instructional and research resources of a large public university in a supportive, sophisticated and diverse academic environment. montclair.edu
About SUNY Buffalo State:
Buffalo State—the largest comprehensive college in the State University of New York (SUNY) system—provides more than 9,000 students each year with diverse and transformational opportunities to believe in themselves, be inspired with knowledge, and achieve their goals. Buffalo State is ranked in the top-100 nationally by CollegeNET's Social Mobility Index (SMI), which measures how effectively institutions enroll economically disadvantaged students and graduate them into well-paying jobs. The college offers a distinctive urban-engaged curriculum across more than 75 undergraduate majors and 60 graduate programs in the arts, education, sciences, and professional studies. Since 1871, Buffalo State has played a leading role in the resurgence of New York State's second-largest city, generating more than $680 million in total economic impact each year as an anchor institution for the City of Buffalo.
About DePaul STEM Center:
The mission of the STEM Center is to provide leadership and service for the purpose of strengthening STEM education throughout Chicago. We achieve this by developing an effective program of study, offering lectures and opportunities to a diverse group of students, and using the university's unique strategic position as an academic institution in the center of a major urban area to support high quality primary and secondary STEM education for students through professional development of teachers.
About the New York State Master Teacher Program:
Responding to the call to strengthen our nation's K-12 STEM education, Governor Andrew M. Cuomo launched the New York State Master Teacher Program (NYSMTP) in partnership with The State University of New York and Math for America in 2013. The NYSMTP celebrates the work of New York's highest-performing STEM teachers by establishing an expert community dedicated to developing expertise in the areas of content, pedagogy, and students' families and communities. The New York State Master Teacher Program is a vibrant network of more than 1000 outstanding public school teachers throughout the state who share a passion for their own STEM learning and for collaborating with colleagues to inspire the next generation of STEM leaders. Master Teachers join colleagues for professional learning and collaboration at nine SUNY host campuses across the state, aligned with New York's economic development regions. Each SUNY site serves as home-base for the region and partners with other educational institutions and organizations to provide a robust program tailored to meet their Master Teachers' unique professional growth and development goals.