Early Career Cohort Meetings
Workshop Spotlight | September 21, 2017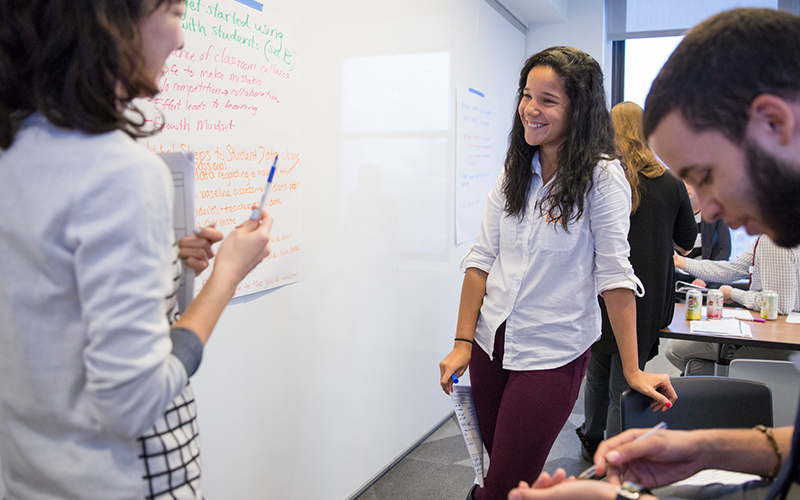 A hallmark of the MƒA Early Career Fellowship is the series of cohort meetings teachers participate in during the first year of the fellowship. The fellowship follows a trajectory designed to offer MƒA Early Career Teachers opportunities to participate in our community. These cohort meetings provide Early Career Teachers with a supportive space to learn, grow, and reflect on their teaching practice. They work collaboratively to ask questions, collect and analyze artifacts, design and iterate curricula, share resources, reflect on current research, and think together about how to be successful with their students.  
As part of these cohort meetings, these teachers are paired with Master Teacher Mentors to guide and advise them through their first year of the fellowship. This mentor pairing gives Early Career Teachers a Master Teacher who not only is an experienced teacher, but someone who teaches the same subject, grade band, or in the same borough.
MƒA Master Teacher Seth Guiñals-Kupperman (far right) serves as a mentor, and explained why he chose to be involved: "I wanted to give something back to new teachers. When I was in my first year of teaching, I remember how overwhelmed I was by everything, and having a more seasoned professional to advise, model, explain, and predict was a crucial part of my professional growth."
Being a mentor also gives Seth occasions to think deeply about his own teaching. "Often, a mentee will ask about something you either had never considered or you thought about once, years ago, and filed away as 'unimportant.' This is an opportunity to revisit overlooked methods and ideas about instruction. The best teachers are always learning, so a mentee gives you the chance to keep thinking about teaching, often in ways you rarely have."
Find out more about the MƒA Early Career Fellowship, hear from one of our teachers, and learn about the application process here.