Bronx and Manhattan Teachers Win Prestigious MƒA Muller Award with $20,000 Prize
Press Releases | October 18, 2021
Fannie Lou Hamer Freedom High School and Stuyvesant High School also awarded $5,000 each
NEW YORK, NY, October 18, 2021 – Math for America (MƒA) today announced that high school mathematics teacher Kate Belin, who teaches at Fannie Lou Hamer Freedom High School in the Bronx, and high school science teacher Mimi Prabhu, who teaches at Stuyvesant High School in Manhattan, have each been awarded the 2021 MƒA Muller Award for Professional Influence in Education. This honor is given to two New York City public school teachers who, during their tenure as MƒA Master Teachers, have influenced the teaching profession in exceptional ways.
Belin and Prabhu will each be recognized for their impact on the teaching profession and awarded $20,000 during a virtual award ceremony on Monday, October 18, 2021 at 5:30 p.m. 
In addition, $5,000 will be awarded to the school or organization of their nominators. Both Belin and Prabhu were nominated by representatives from their respective schools.
These awards are made possible by financial support from MƒA Board Member Peter Muller and his family through their Dancing Tides Foundation.
"Teachers must be at the forefront of conversations about educational policies, reforms, and initiatives that impact the profession of math and science teaching," said Michael Driskill, MƒA Chief Operating Officer. "These winners use their professional influence to engage and support others in extraordinary ways, while elevating the significance of teaching. They are experts at their craft and dedicated to their students. They change the lives of those around them every day."
2021 MƒA Muller Award for Professional Influence in Education Winners
Kate Belin, 12-year MƒA Master Teacher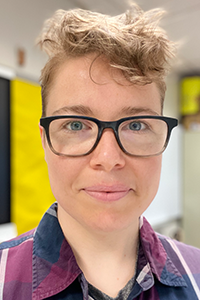 Kate Belin has taught mathematics at Fannie Lou Hamer Freedom High School for the past 17 years, transforming the mathematics curriculum of the school and mentoring student teachers. She was a recipient of the 2011 Sloan Award for Excellence in Teaching Science in Mathematics and was a Fulbright Distinguished Awards Teaching Fellow to Botswana in 2016. Belin earned their B.A. in Mathematics and M.A.T. at Bard College and has been an adjunct professor at City College of New York, Bard College, and the Bard Prison Initiative.
She has presented at conferences such as MSRI's Critical Issues in Mathematics Education, NCTM, the Joint Mathematics Meetings, the Coalition of Essential Schools, Big Picture Learning, and the Conference Board of the Mathematical Sciences. Belin is a national teacher trainer for the Algebra Project and is currently working to organize teacher voices. She regularly works with schools across the NYS Performance Standards Consortium, particularly the eight Bronx Consortium schools, to develop curriculum, assessment, and practice. At MƒA, Belin has led workshops on developing project-based curriculum in Geometry, Functions, and Gerrymandering.
Belin brings a creative approach to pedagogy and has dramatically improved math education at their school and beyond. She is being recognized for bringing her deep understanding of mathematics to all students and taking a leadership role to improve education and educational equity everywhere and for everyone.
"I am beyond grateful to MƒA for this recognition and for providing a space for teachers to come together as learners and leaders. This award also recognizes the work of the entire Fannie Lou community which has always understood that teaching is political," said Belin. "We aren't simply teaching subjects. We are teaching to fight injustices. Our job is to be activists and organizers in collaboration with our students -- to mobilize youth for any issues that exist in their community, country, or world, and work together to make it better." 
Mimi Prabhu, 8-year MƒA Master Teacher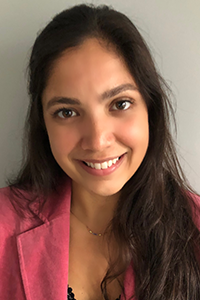 Mimi Prabhu has taught high school biology in downtown Manhattan public high schools for the past 14 years. She served as a peer collaborative teacher at Stuyvesant High School for five years where she led professional development and supported dozens of new teachers. This included working with probationary teachers to develop their practice in their journey towards obtaining tenure. Prabhu earned her B.S. in Biology from Bucknell University and M.A. in Science Education from New York University.
She was awarded Fund for Teachers grants in 2015 and 2020, and worked with the organization to conduct workshops and guide interested teachers through the grant application process. She has presented at numerous science education conferences such as SCONYC and NSTA. At MƒA, Prabhu has co-led professional learning teams around process-oriented group inquiry learning and interrupted case studies. She has also served as a liaison between Tufts Medical School and MƒA, bringing the two communities together to provide NYC public school teachers with graduate level curricula for hundreds of classrooms and students.
Prabhu is enormously influential at her school and within the MƒA community as both a model and a mentor. She is being recognized for her commitment to bringing challenging and exciting science to all students and her dedication to her colleagues. 
"Whenever you meet another teacher from anywhere around the globe, there is an instant connection to a teacherhood. MƒA has allowed us to formalize this deep bond and build lasting relationships here in our city," said Prabhu. "Last year during the pandemic, teachers were left with minimal guidance. MƒA was able to quickly create a space to learn and practice remote teaching techniques with trusted colleagues. It is a great honor to represent the organization, which has a positive impact on all of our students by providing support to teachers so they can be the best versions of themselves in the classroom. There's always more to do, and it brings great comfort knowing that MƒA is there to inspire dedicated educators."
Due to the COVID-19 pandemic, the 2020 award was postponed. All nominations submitted for the 2020 Muller Award were considered in this year's nomination and selection process. An External Committee selected the finalists for the award by considering the nominees' contributions to the math or science teaching profession, including their ability to have a positive impact within their school community and drive change outside of their own classroom, leadership within the broader math or science community, and influence on inspiring other teachers to stay in the profession. A committee of the MƒA Board of Directors chose the two winners, one in math and one in science.
The External Committee is comprised of experts in mathematics and science education, including:
Sylvain Cappell, Professor of Mathematics, Courant Institute of Mathematical Sciences, NYU
Jeanne Garbarino, Director of Science Outreach, Rockefeller University
Po-Shen Loh, Professor of Mathematics, Carnegie Mellon University
Latasha Wright, Chief Scientist, BioBus
The MƒA Muller Award for Professional Influence in Education is awarded annually to two teachers, in math and science, who have taken a prominent role as leaders among the MƒA teacher community and beyond. Read more about the award and past winners here.
About MƒA
At MƒA, we've created fellowships for accomplished mathematics and science teachers. Our model is based on the belief that collaboration, continued learning, and genuine respect enables teachers to grow professionally and provides long-term career satisfaction. This is a remarkable community of teachers who stay in the profession longer and define what teaching excellence means. These are teachers who inspire and motivate their colleagues. They change the lives of their students. Learn more at www.MathforAmerica.org.