Acknowledging and Affirming Our Students' Experiences
Teacher Voices | November 17, 2021
By Vanessa Spiegel, MƒA Master Teacher Emeritus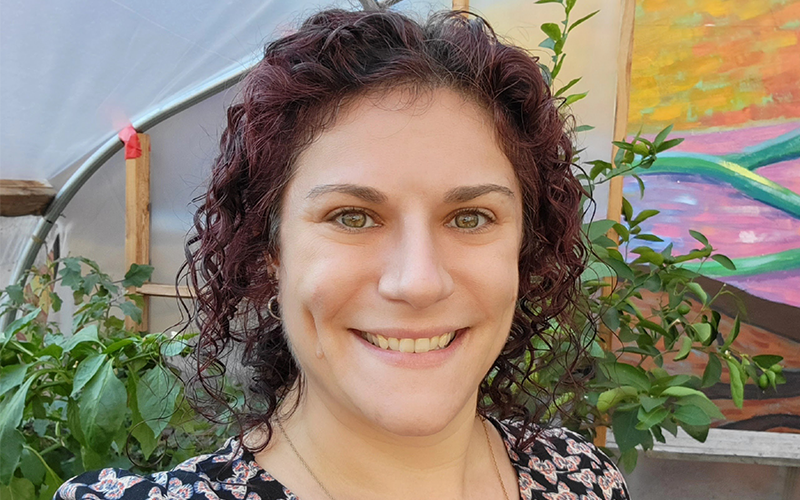 Every day, our students leave their homes and travel to school. They might walk, take the bus, or ride the subway. Some travel within their neighborhoods and others travel from communities over an hour away. School is where they spend most of their waking day. Many -- 33% of all NYC high school students -- begin their day by walking through security, taking off their belts, putting their bags on a conveyor, and having their items and bodies scanned for any disruptions. Out of approximately 15 million scans in NYC high schools a year, 712 weapons were found in the 2013-2014 school year. Yet every student who attends a "scanning school" must begin their day this way. Once inside, they have their phones taken away or locked up, they're told how to dress (no hats, doo rags, bare shoulders, short dresses), how to walk (silently, single file, quick!), and how to behave (be quiet, sit down). 
It's important for us to take a moment, close our eyes, and think: How would I feel if this is how I had to start every weekday after leaving the comfort of my family and home?
I have a rebellious soul, so for me, I would find it invasive, maddening, and then numbing. My inner dialogue would first say, "Well, if this is how they're going to treat me, then I'll give them a reason for it," and then pivot to: "Fine, this is life, I just have to deal."
Is this what we want for our students? 
There is much we can't control about our students' daily lives, but we can control how they feel when they're in our spaces. How can we empower them? We can create nurturing, affirming, celebratory environments where students don't have to go numb, don't have to forget who they are or where they came from, and can use their cultural strengths to succeed. 
Admittedly, this is something I thought I was doing through the first 10 years of my teaching career. It took a global pandemic and social uprising based in racial justice for me to pause, reflect, and face the reality that I am part of a system that not only fails to acknowledge and celebrate its members, but actively works to squash their joy and independence. Because I am part of this system, it's also my responsibility to disrupt it.
I started to learn wherever and whenever I had the opportunity. I've participated in book clubs, webinars, conferences, and classes, many through the support of MƒA, and I took action. I signed petitions, donated to organizations, attended meetings, and organized within my community. Within my own classroom, I began to start and end each class with a question, asking students to share a little bit about themselves, such as: "If you could have any super power, what would it be and why?" We worked towards deeper questions like "What is your gift to the world?" and over time we built a community of support. I canceled planned lessons and used the entire class time to discuss issues that concerned them. And when something happened in the real world, I asked questions. For example, after the Derek Chauvin verdict and the shooting of Ma'Khia Bryant happened on the same day, I opened my next class with this statement: "It has been one heck of a week with lots of ups and downs in the news and possibly in our own personal lives. Use this space and time to share your thoughts, vent, and ask questions. Say what's on your mind." And then I listened and took time to acknowledge their experiences. 
There are small steps that teachers can take to bring more equity into their spaces. We can give students more voice in our classrooms: ask them what they're interested in, how they learn best, what questions they have about the topic, and plan activities and lessons around their interests. We can provide more representation in the classroom with our lessons, our images, and by showcasing and bringing in diverse experts and professionals to speak to students. We can pledge to #TeachTruth by acknowledging the contributions of multiple cultures to our subject area. We can bring joy, examples of resistance, and opportunities to create and explore methods of social justice. We can participate in national events such as the Black Lives Matter at School Year of Purpose, which kicked off on George Floyd's birthday (October 14th) and will continue with a day of action each month [find details on how you can continue to participate here]. We can evaluate our curriculums by using Culturally Responsive Curriculum Scorecards - something I'm doing with a group of teachers through a Professional Learning Team at MƒA. And we can bring equity into our communities outside of school by following the guidance and examples within resources that help teachers fight for racial justice in schools. We must continue to explore our own biases and unravel the social messages in which we've been raised.
Even adding one of these suggestions is a movement in the right direction. It may seem small, but to our students, it can be a big deal. It's easy to lose ourselves in our curriculum, and while that's important, too, our students can't truly learn in an environment that doesn't actually "see" them, their challenges, their successes, their fears, and their joys. 
I recognize that there is much more work to be done and that I cannot truly understand what my students experience, but what I can do is listen, guide, and cheer them on. I hope you'll join me by participating in some of the actions above and creating a culturally affirming environment at your school. 
Vanessa Spiegel, LMSW has been teaching science since 2003. She is currently teaching Plant and Soil Science at Bronx International High School, where students learn through first-hand experience at the Morris Campus Farm. She is a founding member of Teach the Truth - Westchester, a grassroots coalition dedicated to supporting schools and teachers in creating an academic environment that accurately recounts the history of our nation and affirms the diverse identities of our students. She completed her MƒA Master Teacher Fellowship last year and is currently an MƒA Master Teacher Emeritus.