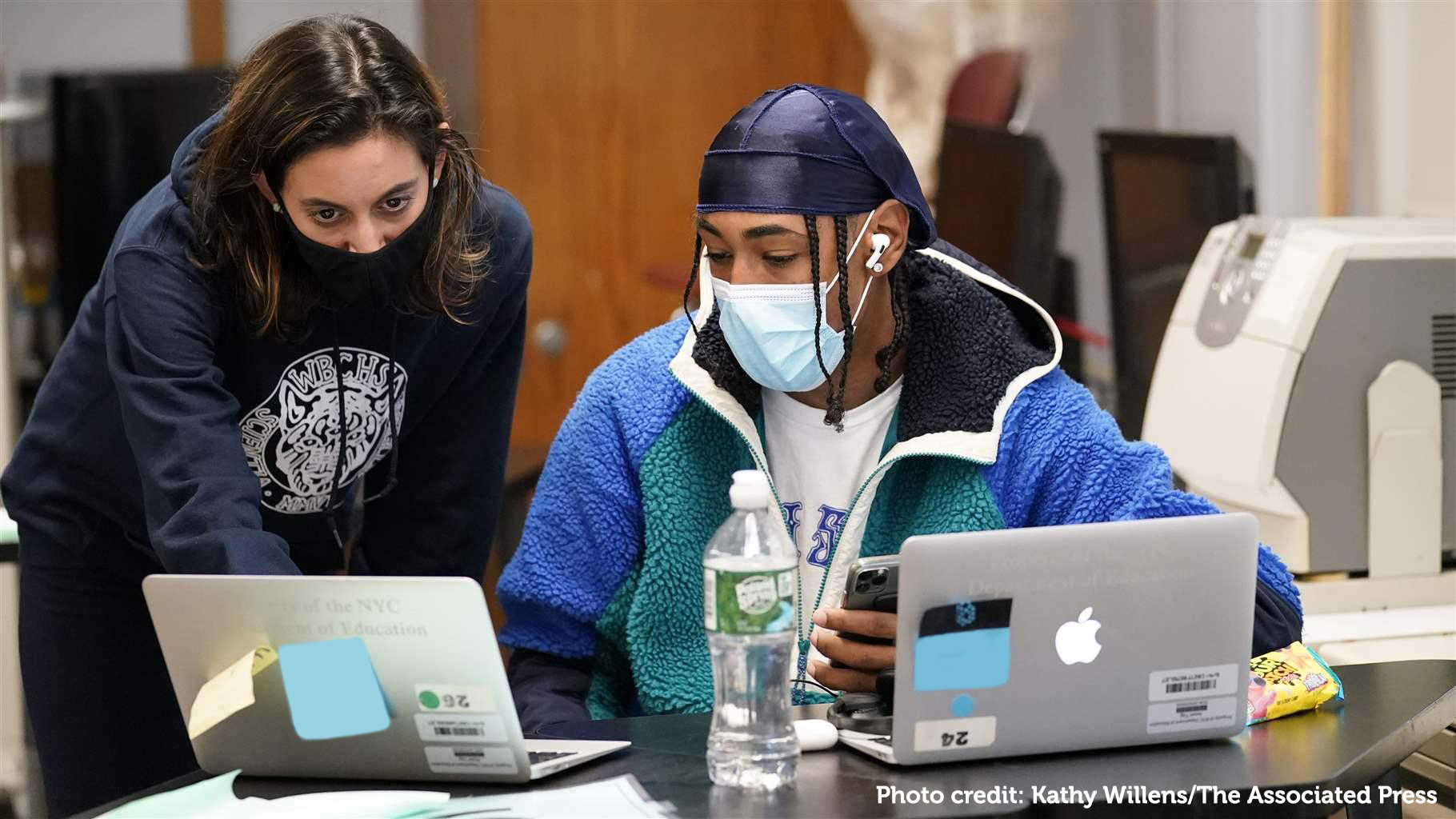 Remote Teaching During the Pandemic: Trading in the Textbook for the Real World
MƒA Master Teacher Chaya Baras took the absence of state tests as an opportunity to reimagine science class and increase student engagement. 
In mid-March 2020, when New York City's public schools closed their doors in an effort to stop the spread of COVID-19, MƒA Master Teacher Chaya Baras found that her students were struggling with the motivation to continue learning. "It was just so much upheaval," Baras said. "The students were like, 'OK, my whole life is kind of falling apart. What am I getting from taking a [typical science] class at this point?'"
Baras knew she had to frame the science content and skills she was teaching in a way that felt relevant to her students to keep them engaged and connected. When New York cancelled state tests, Baras saw it as an opportunity to ditch the textbook and go deep on one major concept—sustainability—for an entire 12-week course. She completely overhauled her semester-long living environment class using a teaching method called "project-based learning," where students learn by immersing themselves in real-world projects. 
Baras created a three-month project that required students to design a sustainable city. To complete the project, her students had to learn the science behind climate change, alternative energies, transport, and food - all while applying it to their real lives. 
"MƒA was the foundation where a lot of these ideas really came from," said Baras. She is in her eighth year in the program at MƒA, and her 11th year teaching at West Brooklyn Community High School, which serves students who are overage and undercredited.
"People are saying New York City's over," she remembered telling her students. "There is an opportunity now to revitalize the city and make it more sustainable and robust." 
Getting the chance to rethink NYC from a sustainability perspective reengaged Baras's students in the learning process. 
"These students are not blank slates," Baras said. "When you create opportunities for them to reflect on what they've learned and use their own background information and experiences, it's a much more powerful learning experience."
For example, students were surprised to learn the environmental, societal, and economical cost of the American diet, specifically with meat production. After comparing the American diet to other countries' diets, watching a short film "The Hidden Costs of Hamburgers," and calculating their diet's carbon footprint, students were eager to share their thoughts in an online class discussion. 
One student, José, noted, "What most stood out to me is the sheer effect that our consumption of meat has on the environment; never did I imagine that a single quarter pounder equated to over six pounds of greenhouse gasses. This puts into perspective that even something we wouldn't typically associate with global warming in our everyday lives is having a massive effect on our environment." 
At the end of the course, her students presented their sustainable cities to their classmates. "They were able to showcase their work, look at other students' work, and give them feedback," said Baras. "Even remotely, creating this space for students' voices and ideas makes the classroom come alive."
With state exams canceled through January 2021, Baras continued her project-based learning in the fall. She hopes to design another unit in the future, potentially based on the next-generation science standards she is currently studying in an MƒA workshop.
"We're educators because we love to learn, too," Baras said. "Having that opportunity to keep learning and growing has been incredible."