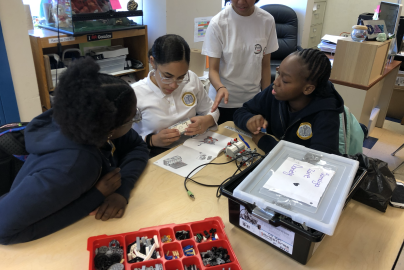 MƒA Master Teacher Ramona Fittipaldi empowers young women in STEM through introduction to robotics courses. 
MƒA Master Teacher Ramona Fittipaldi loved math and science growing up, but boys dominated the few STEM activities, courses, or clubs available to her. She eventually attended an all-girls high school, but opportunities were few and far between. After graduating college with a degree in mathematics, where classes were still overwhelmingly male, she was thrilled to begin teaching mathematics at the Young Women's Leadership School in East Harlem, an all-girls high school that serves students of color in an underserved district with fewer financial resources.
"I wanted to make sure I provided an opportunity to my students that wasn't always given to me and mimic teachers that motivated me to succeed. Giving young women choices in their learning is so important because a lot of the time they're told they can't, or they shouldn't, or they won't."
Fittipaldi felt that her school needed technology-focused, hands-on offerings for her students. To get ideas she participated in MƒA professional development workshops where she learned how to create a robotics program. She discovered different approaches used by other teachers across New York City in a variety of grade levels and contexts, including Arduinos, TETRIX, and FIRST Competition robots. 
Her MƒA colleagues connected her with Borough of Manhattan Community College (BMCC) Professor Mohammad Azhar, who organizes and teaches training and research workshops for Educational Robotics programs. The Hispanic Serving Institute Digital Pathway Project for High School Robotics further informed Fittipaldi about how to start a robotics program at her school and even provided funding for the robots. At that point she was ready to launch a new elective at her school: Introduction to Basic Engineering with Robotics.
"We need to steer girls into math and science fields so they, too, can change the world."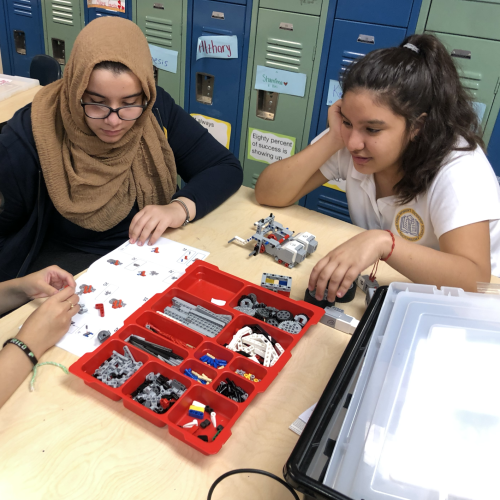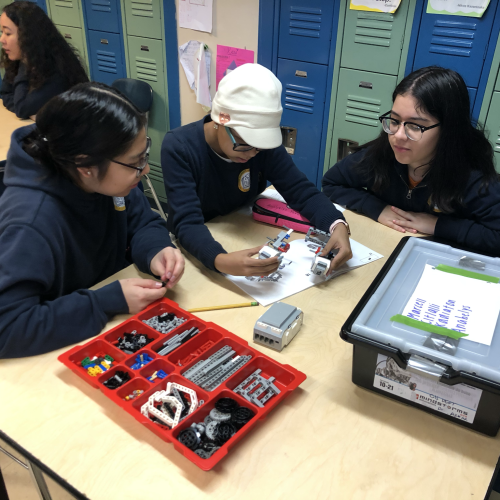 "Nothing says girl power like powering a robot. This kind of work allows my students' abilities to flourish and it pushes them to understand that they too can be scientists and mathematicians," said Fittipaldi. "It's not only fun and exciting, but it increases their confidence and passion for STEM. That's crucial with so few female role models in the field."
The elective was a big success. Students worked with LEGO MINDSTORMS Education EV3 software to create lego robots. Fittipaldi's students learned core concepts for design, technology, and engineering while engaging in exciting, hands-on activities such as programming a robot to complete an obstacle course. She noticed that attendance improved for students with disabilities and students learning English, which she attributed to the fact that students enjoyed seeing the content come alive in the real world.
When the COVID-19 pandemic hit New York City, Fittipaldi's school stopped all electives in an effort to lighten students' course loads during remote learning. But her students requested that robotics continue. Through additional resources and guidance provided by her MƒA teacher peers and programs at BMCC, she launched a virtual after-school robotics club. In it, students use software like Calypso, a website that allows users to digitally program robots and create virtual worlds for them. One big project they worked on involved identifying situations in which robots could help during the pandemic. Some students missed visiting older relatives, so they imagined how robots might pick up care packages and deliver groceries or medication to homes and facilities. They then built a digital map with different locations and had robots virtually visit each one.
With opportunities like this, Fittipaldi's students are being given chances to pinpoint needs they see in their environments and use programming to address them - a first for many of them. She hopes to expand her electives and clubs in the future, focusing on other computer science and engineering topics like cybersecurity and breaking coded puzzles and passwords. 
"I have girls that come up to me frequently asking 'can we still join the robotics club?' Fittipaldi said. "My answer is always 'yes, of course.' Just getting that level of interest and buy-in is a win for young women in STEM. We need to steer girls into math and science fields so they, too, can change the world."