Stories
Cleverness Squared: A Minimalist Approach to Teaching Mathematics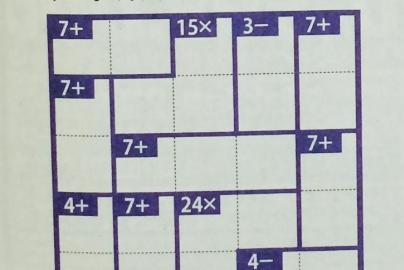 After traveling to Tokyo to work with the creator of KenKen puzzles, MƒA Master Teacher Aaron Kaswell shares a global teaching approach with fellow educators and enhances learning experiences for his students.
As soon as MƒA Master Teacher Aaron Kaswell entered Tetsuya Miyamoto's mathematics classroom in Tokyo, Japan, he noticed the difference. Students would file in, check the whiteboard, sit down at their desks, and get right to work on a series of numerical logic puzzles — all without talking or asking questions. They remained deep in concentration for the entire class, with scarcely a bathroom break, only raising their hands for Miyamoto to check their work. In turn, the enigmatic creator of the grid-based mathematical puzzle KenKen offered the students no words of encouragement or explanation beyond "correct" or "incorrect."
Image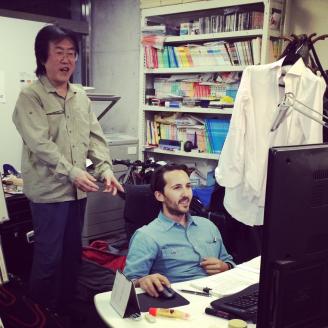 It was the summer of 2014, and Kaswell had traveled to Japan thanks to a grant obtained with MƒA's support to apprentice with Miyamoto at the latter's mathematics school. He had already seen the transformative impact of using KenKen with his students at Middle School 88 Peter Rouget in Park Slope, Brooklyn, but was struck by the stark difference between the Japanese teacher's minimalist approach and his own classroom experience.
"To me, it felt like Miyamoto was the conductor of a symphony orchestra," he says. "There's a tension where everyone's trying to hold this space, and do awesome work, and create something beautiful. That's the feeling in the room."
Miyamoto, who calls his approach in the classroom "the art of teaching without teaching," created KenKen in 2004 as a way of helping his elementary-level students hone their calculation skills. The name KenKen loosely translates to "cleverness squared." By 2009, the puzzle had become a global phenomenon, and it now appears in more than 150 newspapers worldwide.
Kaswell worked in the music business before entering the New York City Teaching Fellows program and earning his teaching degree. He has taught at M.S. 88 for 15 years, and is grateful for the school's flexible culture when it comes to teachers designing their own lessons. "It's really built into the DNA of our school to let teachers go and do what they do best," he says. After getting hooked on KenKen himself, and seeing its effect on his students, he snagged the invitation to visit Miyamoto's classroom with the help of Nextoy, the American distributor of KenKen.
Image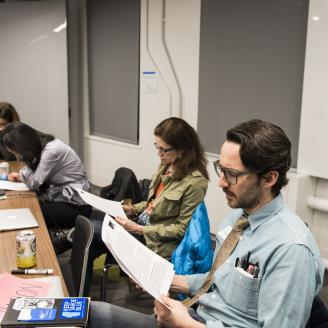 After returning from Tokyo, Kaswell jumped at the chance to practice what he had learned with his students — and share it with fellow MƒA teachers. With fellow MƒA Master Teacher Michael Paoli, he created a mini-course called "KenKen Meditation," which aimed to give teachers a break from their hectic days, engage their minds, and help relieve their stress through focused puzzling. "
We wanted to provide some of the experience of the Miyamoto classroom," Kaswell explains. "We live in a world of constant interruptions, disruptions, bells and whistles…and we wanted to give teachers a 45-minute block of peace and quiet and deep work focused on KenKen."
In addition to discussing solving strategies and puzzle setup and design (in case teachers wanted to create their own KenKens), the mini-course also shared ideas about how teachers could work with KenKen in the classroom, and the positive effects puzzling could have on students' moods. Though Kaswell prefers a Miyamoto-inspired minimalist approach, he appreciated that teachers brought their own ideas about how to present the puzzles, tailored to the different grade levels they were teaching.
Image
"Middle school teachers wanted the students to use KenKen to consider the order of operations, or practice basic functions," Kaswell says. "High school teachers were less interested in that. They wanted it to be something for pure enjoyment, or relief from when they're going hard on Regents exams."
From its origins at MƒA, the KenKen Meditation mini-course reached a broader audience when it was selected to be broadcast live to members of the New York State Master Teacher Fellowship Program. Kaswell has also presented a similar course for teachers through the National Museum of Math, as well as a version geared toward children and families.
Kaswell credits MƒA with supporting his professional development journey every step of the way, from the initial grant process to the mini-course to hosting Miyamoto as a guest speaker during the latter's stay in New York a few years after Kaswell's trip. "I had kind of a wild idea of something that had never been done, and I just put it out there," Kaswell says. "Ever since my trip, MƒA has been incredibly encouraging and supportive of me sharing my learnings with the community."