Stories
Beyond Medicine: Opening Students' Eyes to Careers in STEM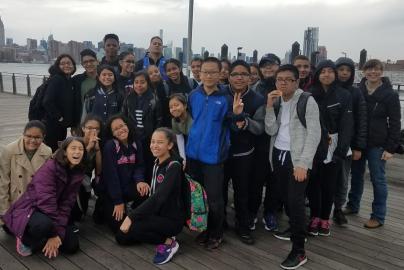 MƒA Master Teacher Benjamin Rivera inspires students to pursue higher education and careers in STEM by showing them the exciting and worthwhile opportunities that exist in various fields. 
Benjamin Rivera was still in college himself when he first learned how teaching science could help launch younger students into their lives and careers beyond high school. While leading career exploration and work readiness workshops and tutoring science at an after-school program in Brooklyn, he saw many of his students excel in their science studies, and attribute their success in large part to his help. 
 
"They said that not only did I make science fun and easy to understand, but they were able to see why it was important to them," Rivera recalls. Inspired by that experience, he decided to change his major from physician assistant to science education. He'd always loved science himself, but now he felt driven to cultivate that same passion in others. 
 
As an MƒA Master Teacher of biology and earth science at Brooklyn's All City Leadership Secondary School, Rivera is still encouraging students to look toward their futures. His goal is not only to get them to fall in love with science, but to introduce them to exciting career opportunities they might not have considered. 
 
"When students think of a career in STEM, they think of becoming a doctor.  But there's so much more," Rivera says. "I wanted to open up their minds and show them that there are so many different options — geneticist, neurosurgeon, astrophysicist — that can lead to huge contributions in society."
 
Given the need for talented STEM professionals to tackle today's global challenges, from COVID-19 to climate change, Rivera sees it as a serious problem that many students still view career choices in the field in a limited way. He believes the solution begins with making science relevant to students, and connecting it to their own experiences as much as possible. This means providing practical, hands-on activities in the classroom that will engage students' five senses and make their learning more meaningful. 
Image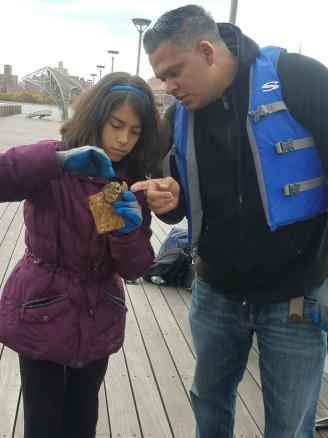 After taking the MƒA mini-course "Frankenfoods: The Genetic Modification of our Food Supply," Rivera created a unit project in which students tested food from local grocery stores for genetically modified organisms (GMOs). They discussed the potential impact of those foods on their health, as well as the roles race and economic class play in food supply. 
 
Taking part in a wide array of MƒA courses has given Rivera the opportunity to learn from and collaborate with experienced teachers and experts in different scientific fields. He credits this experience with expanding his own knowledge, as well as his ability to get through to his students. "I'm able to deliver information about scientific concepts more accurately and confidently to my students, and this encourages them to investigate more deeply," he says.   
 
Rivera does his best to connect the work students do in class to what professional scientists might do in the field. For a unit on gel electrophoresis, the lab technique used to separate DNA molecules by size, he talked about the field of forensic science. A unit on the Earth's dynamic crust included a discussion of volcanology and glaciology, among other related fields.
As part of the ongoing Billion Oyster Project, Rivera's students take charge of an oyster cage located in New York Harbor in the Dumbo area of Brooklyn. "They study the structure and function of the oyster, and how it reproduces," Rivera says. "They're actually out in the field, and they're the ones who are recording and taking all this data and bringing it back to the classroom to have richer discussions. When we measure the pH level or visibility of the water, I remind them that's what a hydrologist does."   
 
Above all, Rivera encourages students to look for a personal reason to connect with the science they study in class, knowing this will make it hit home in a way it couldn't otherwise. His efforts have paid off, as Rivera has seen many of his students go on to major in biology, biotechnology, and other scientific fields in college. 
One former student, now in his first year of college, told Rivera that he had been inspired by a conversation in earth science class about the origins of the universe, and was now majoring in astrophysics. Another former student, a recent college grad, had planned to be a nurse, but is now working in the field of genetics. 
"I knew real changes were occurring when I began to see more of my seniors looking to pursue a career in science," Rivera says. "Many of them gave credit to their science classroom experience as having persuaded them to choose their college major and wanting to be a positive contributor to society."  
"I wanted to open up my students' minds and show them that there are so many different STEM career options — geneticist, neurosurgeon, astrophysicist — that can lead to huge contributions in society."