Stories
A 360-degree View of Learning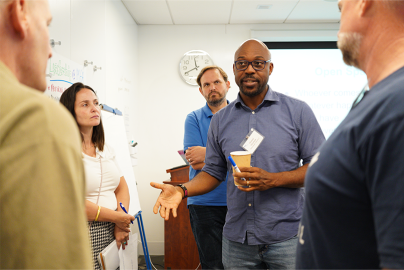 How MƒA helped Seyi Okuneye increase student engagement and learning by creating virtual field trips.
With pandemic-era restrictions on in-person learning still firmly in place in the spring of 2021, MƒA Master Teacher Seyi Okuneye was looking for new ways to engage his students and inspire them to take greater ownership of their learning. When he enrolled in the MƒA mini-course "Geologic Field Study of Prospect Park," Okuneye jumped at the opportunity to create a virtual field trip (VFT) that would bring the park to life for his earth science students in a far more dynamic way than simply reading, listening or watching a YouTube video.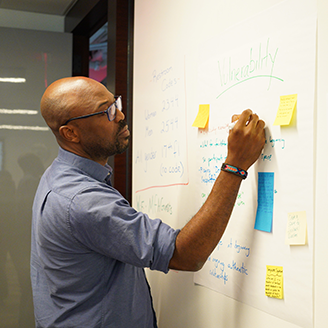 "This was me in front of the camera, being the subject matter expert," Okuneye says. "This was me going through that experience, so that I can bring it to my classroom and show it to my kids."  
As a longtime science teacher at the Metropolitan Expeditionary Learning School in Forest Hills, Queens, Okuneye had spent the previous summer participating virtually in Infiniscope, the NASA-funded initiative for teachers of earth and space science. During the program, he had simply used his cell phone camera to create his first VFT, but now he decided to level up the experience. Using part of his stipend from his MƒA fellowship, Okuneye purchased a new Insta360 One, an action camera with the ability to shoot 360-degree images.
In Brooklyn's Prospect Park, Okuneye and his MƒA colleagues explored several different locations, ranging from the hilly field near the park's entrance to the lake formed by a glacier's retreat some 20,000 years ago. At each station, Okuneye set the camera down and captured a 360-degree view. He also took photos at certain stations using a microscope attachment that allowed him to magnify mineral crystals inside nearby rocks. "We figured out that all the rocks came from different places, because the mineral arrangement of the samples was different," he says. "So the question is, why are all these rocks gathered in this place? How could they have gotten here? All the evidence tells a story of the park's glacial past."
A Geological Field Tour of Prospect Park
This virtual field trip created by Okuneye showcases Prospect Park, Brooklyn, NY. Virtual field trips like this are powerful learning tools that can both connect students to their community and transport them to places they may never otherwise see. Okuneye has also created virtual field trips showcasing the Enchanted Galapagos Islands and the Great Peruvian Highlands, including Machu Picchu.
Okuneye then used an app to stitch the images together and create his virtual tour of Prospect Park, complete with facts, diagrams and mini-assignments along the way. "The VFT allows you to introduce different types of multimedia," he explains. "If I just played a video, we would maybe look at a map, do the work and then leave. With the VFT, I can find game simulations. I can put in multiple videos, and leave it to them to choose how many videos they want to watch depending on their level of understanding."
Okuneye saw immediately how giving students greater agency over their own learning in this way engaged and energized them. "They had the space to work, they could work individually or in pairs, and they could go through the VFT at their own pace," he recalls. "This experience really reinforced my belief in place-based and outdoor education in the sciences."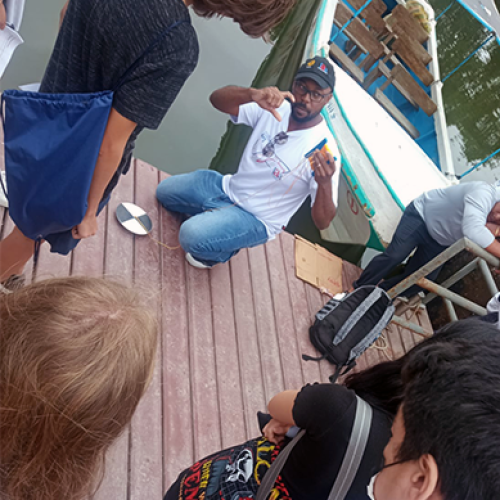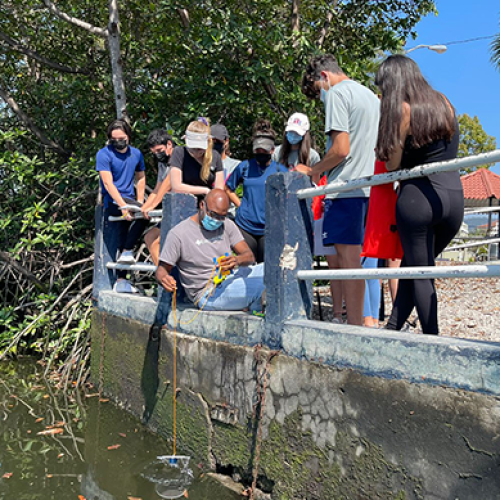 For the 2021-22 and 2022-23 school years, Okuneye taught at the InterAmerican Academy in Guayaquil, Ecuador. While teaching an astronomy unit to ninth-grade students in his applied and integrated science classes, he was inspired to build a course around a NASA-provided VFT of the James Webb Space Telescope. "[NASA] had the tour, but there was no accompanying accessory for students to engage with," he recalls. "So I created a student exploration sheet for my class, and used the VFT to open up our case study of the Hubble Space Telescope by comparing it [to the James Webb Space Telescope]."
Okuneye also took his camera along on his travels throughout South America, creating VFTs of both the Galapagos Islands and the Great Peruvian Highlands, including Machu Picchu. "I wanted students to see that this original content was created by their teacher for them specifically," he says. "Also, this allowed some of them who hadn't had the opportunity to go to these places to still be able to explore."
Though Okuneye's work with VFTs began as a response to remote learning challenges during the pandemic, it has continued — and expanded — as things have returned to a new normal. Going forward, his goal is to work with students to create their own VFTs. "That's when the experience really comes out, because they're making observations, they're thinking about the connection of people to place," he says. "Having them look at themselves as people who can make differences in their communities based on their understanding of science is something that I'm very passionate about."