Teacher Voices
The Places Our Students Need Us Most: Teaching Resilience & Hope During a Pandemic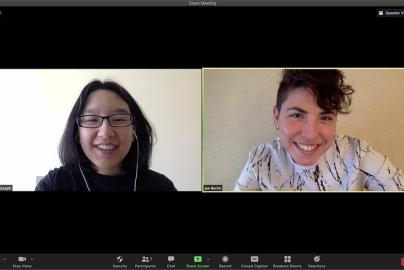 By Jae Berlin and Angela Joseph, MƒA Master Teachers
"It's still a flea circus. It's all an illusion. You never had control, that's the illusion." 
- Dr. Ellie Sattler, played by Laura Dern, Jurassic Park
On March 15, 2020, Mayor Bill de Blasio announced the closure of the New York City public school system due to the growing threat of the COVID-19 pandemic. That week, teachers across the city began wading into the uncharted territory of remote learning. As co-planning science teachers at the International High School at Prospect Heights in Brooklyn, we knew from our first Zoom meeting that we'd need to teach about coronavirus. Reconnecting with each other amidst the multitude of meetings - learning online tools, solidifying schoolwide outreach systems, reconsidering everything we had planned to teach this year - we shared a sense of professional duty to our students. But what does professional duty look like amidst a pandemic, and how does it show up in our curriculum?
We argue that the role of educators during a pandemic - and always - is to help students grow by teaching content in a way that acknowledges their emotions and uses them to build reassurance and empowerment, instead of intellectualizing (the defensive use of knowledge to sidestep the emotional dimension of a fraught experience). It's to develop timely, responsive, honest curricula that fosters a sense of hope and understanding, without promising a false sense of control. The two of us decided to break from our regularly-scheduled curriculum and spend two weeks focusing on what was on our students' minds: viruses and COVID-19. 
We covered topics ranging from basic virology and vaccines to social distancing, "flattening the curve," historic pandemics, and R-0 (the basic reproductive rate of a virus). It felt good to have the freedom to steer our curriculum towards certain facts in these infamously uncertain times. These lessons led to well-attended digital discussions, Google Classroom posts, and written responses. However, in between those moments were ones where a student messaged to say their sister had a fever, but could not get tested. Some had parents or were themselves working at overcrowded stores; others were not working at all and struggling to pay bills and secure food. Undocumented families were unable to receive stimulus relief checks. Worst of all, students lost irreplaceable figures in their lives, from pastors to parents. Our science lessons were not helping with any of that, and we started to feel frustrated and suddenly philosophical.
What was the purpose of teaching? Of science? Teaching and learning about coronavirus, while relevant, was not resonant with our students' and our personal need for emotional discourse. A Jurassic Park movie moment came to mind: one may imagine a world where each of us has control, scientists have control, and knowledge means control of a situation. But, as Dr. Ellie Sattler points out, control is an illusion. The facts, while important, did little to comfort us when family members fell ill with the virus. Angela's uncle tested positive for COVID-19 in late March. A ventilator and an ICU bed may have saved his life, but not one scientific fact eased the compounding distress and helplessness that resulted from being unable to sit by his bedside and offer love and comfort. For Jae, the false sense of hope gained with each new scientific report was rudely stripped away when their father succumbed to the virus. His symptomatic pathway was nothing like those described in the news. His passing was unconveyable in our curricular material, as was the passing of loved ones students lost each week of the pandemic.
In the face of pain and fear, a frequent response embedded in Eurocentric society is to intellectualize. Academia has historically valued the separation of emotions from curricular discourse, especially in STEM content. However, students need something different, now more than ever. Teaching the facts about coronavirus was important. But factual knowledge is the tip of the iceberg; what lies beneath are the places our students need us most. Curricula worldwide must foster a space to honestly address fear and honor students' realities. While science alone is inadequate in addressing emotional experiences, it can be crafted as a curricular entrance into discussions that do.
In one live class meeting this year, we started from a now-familiar prompt: It's amazing that… "It's amazing how we're using phones and computers all the time now; it will be so weird when we go back," a student began. "It's amazing how scientists are collaborating more than they ever have in history, sharing their research early and internationally," we added. Another student said: "Oh yeah! Science is so important right now!" "It's amazing how generous people are being with each other," posited the student who weeks ago asked how he could socially distance himself from his feverish sister when his family shared 10 to a bathroom. Families in his building were coming together to help each other in ways he'd never seen. Perhaps we hadn't used our curriculum to explicitly teach ways to deal with or process traumatic experiences in real time. But from our students' comments, it was clear that we had succeeded in instilling in them the sense of wonder, awe, cooperation, and humanity that is central to science and education. And our students were all ears.
Acknowledgement
The authors would like to acknowledge the ongoing protests against police brutality, to which coronavirus is now taking a second stage. Current and historic racism in all its forms affects the lives of the majority of NYC students in essential ways, including education and healthcare. As worldwide attention is providing a societal opportunity to pull our systems out of historic holds of power and privilege, we continue to seek to help students feel grounded in knowledge without intellectualizing.
COVID-19 has disproportionately harmed Black and African-American people in the U.S., and these differential health outcomes are plainly tied to systemic racism. As STEM educators, we are in a position to empower students with anti-racist curricula that explores these connections. We know that our lesson planning is incomplete until it reflects and centers the histories and current realities of our students and their families, similar to and different from our own. We can cultivate classroom communities where students develop the skills needed to question, engineer, and advocate for systemic change that will affect their personal lives and collective futures. We can take direction from Black colleagues, leaders, and organizations, such as Black Lives Matter At School, to dismantle the oppressions present in our own institution. This is the work that we are recommitting ourselves to, and we are eager to gather in fellowship with you as a community challenging ourselves to do so.