Press Releases
New Fellowship Offers Teachers Opportunities to Improve STEM Education in New Jersey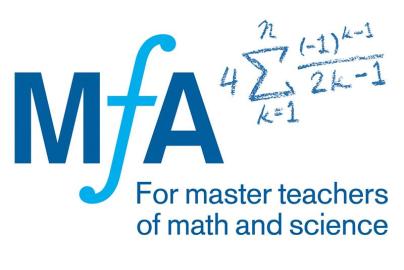 NEW YORK, MONTCLAIR, PRINCETON & GLASSBORO – Math for America (MƒA), a nationally recognized STEM education nonprofit, announced today that it is partnering with Montclair State University, Princeton University, and Rowan University to create a new program called the New Jersey STEM Innovation Fellowship for New Jersey public school teachers designed to improve STEM teaching and student learning in the state.
The one-year fellowship comes with a $5,000 stipend and is initially open to experienced K - 5 teachers working in public elementary schools. Thirty teachers will be selected as fellows for the pilot year of the program, which will focus on improving math instruction in the classroom. Fellows will attend a two-day summer institute at Montclair State University, and then attend monthly workshops hosted by participating universities in their region, where they will implement innovative, research-based teaching practices shown to help students – particularly in high-needs schools – develop flexible problem-solving skills they need to thrive in STEM subjects.
"We are delighted to partner with leading universities to support this innovative program that supports STEM education in New Jersey," said Dr. John Ewing, President of Math for America. "We believe this new approach will ultimately serve as a model for other states."
MƒA developed the new program with feedback and support from several key stakeholders in New Jersey including the Murphy Administration, New Jersey Department of Education, and JerseyCAN, an advocacy group that supports equitable access to STEM education for students.
"New Jersey has some of the best public school teachers in the nation, who are committed to helping students reach their greatest potential," said Governor Phil Murphy. "This Math for America pilot will help teachers implement new, STEM-based teaching practices and will enable them to further provide our children with the skills they need to prosper in the innovation economy."
"Montclair State is honored to lead a partnership of institutions with renowned teacher preparation and continuing education programs, including Princeton University and Rowan University," said Dr. Susan Cole, President of Montclair State University. "This Fellowship will power statewide innovation in STEM education from the ground up."
"This new fellowship gives teachers from different districts and schools a chance to collaborate by exploring innovative teaching practices," said Dr. Todd Kent, Director of the Program in Teacher Preparation at Princeton University.  "The fellows will model and share best practices, and we look forward to sharing these innovations with students in our teacher preparation program."
"This program complements a long tradition of high-quality professional development for teachers offered by Rowan," said Dr. Shelley Zion, Executive Director of the College of Education's Center for Access, Success, and Equity (CASE). "Teachers working in high-needs districts will learn about innovative teaching practices that produce equitable learning outcomes for students."
The fellowship will be funded with support from the Overdeck Family Foundation, PSEG Foundation, Celgene Corporation, BD (Becton, Dickinson and Company), and the Maher Charitable Foundation. Teachers can learn more and submit applications online at www.innovateSTEMnj.org. The fellowship will begin accepting applications in early February and the deadline to submit applications is March 31, 2019.