Workshop Spotlight
MƒA Thursday Thinks: The Story Collider 2022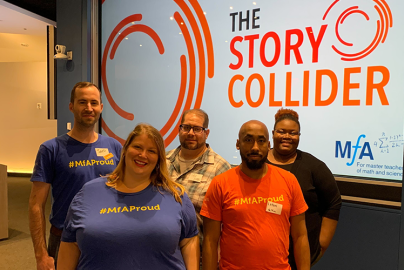 On May 12, 2022, MƒA again partnered with The Story Collider, a nonprofit organization dedicated to sharing true and personal stories about science, to host one of our favorite MƒA Thursday Think events of the year. The show was held in-person and streamed virtually, featuring stories from five MƒA teachers about everything from conquering fears, to starting over, and finding confidence. These authentic tales brought MƒA teachers together for an evening to connect, support, and laugh with one another. 
You can now watch each story in its entirety below.
Nancy Buck 
When MƒA Master Teacher Nancy Buck was presenting her own mathematics research at a conference for the first time, she recalls the moment she stared face-to-face with her biggest fear: a follow up question.
Jared Fox 
MƒA Master Teacher Jared Fox shares how an intense week of working with students to beautify a local neighborhood park led to an incredible impact on his classroom, community, and the local climate. 
Joe Buro 
After MƒA Master Teacher Joe Buro received concerning news about his health, his doctors turned to 3D computer-aided design printing – a tool that Joe just so happened to use in his own classroom – to better his life.
Asia Jackson
Despite being a naturally shy person with a fear of public speaking as a student, MƒA Master Teacher Asia Jackson joined her school's drama club, and shares how she learned to overcome obstacles by enjoying the ride.
Leton Hall
As a student, MƒA Master Teacher Leton Hall was sometimes overlooked and grew to believe he should skate by on minimal effort. Often looking for the "easy way out," Leton recalls when a teacher saw his potential and challenged him to do more.