Workshop Spotlight
MƒA Thursday Thinks: The Story Collider 2020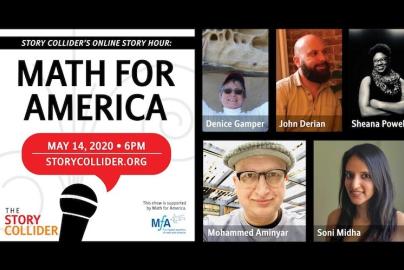 For a third consecutive year, MƒA partnered with The Story Collider, a nonprofit organization dedicated to sharing true and personal stories about science, to host an MƒA Thursday Think storytelling event. Except this year, we went virtual!
Over 200 MƒA teachers tuned in to watch the online show, which featured unforgettable stories from five MƒA teachers about times that went wrong, and occasionally right, in their labs, classrooms, and beyond. The event brought together MƒA teachers to listen to, connect with, and support one another during this unprecedented time, and the power of MƒA was palpable through it all. Some of the stories were heartbreaking, others were hilarious, but they were all very true and very personal.
You can now watch each story in its entirety below. (Please note that some talks include NSFW language.)
Soni Midha 
MƒA Master Teacher Soni Midha reflects on her first year as a calculus teacher and how she gained a clearer understanding of the struggles her students face in class. 
Denice Gamper 
MƒA Master Teacher Denice Gamper talks about an experience where a student confided in her, changing her entire perspective on education and being a teacher.
Sheana Powell 
MƒA Master Teacher Sheana Powell tells her story of transitioning from a charter school to a NYC DOE school and reflects back on the demands we ask of students.
John Derian 
After experiencing a panic attack, MƒA Master Teacher John Derian shares how his students helped him to adopt an important life motto: find comfort in being uncomfortable.
Mohammed Aminyar 
MƒA Master Teacher Mohammed Aminyar opens up about how overcoming the powerful emotion of fear helped him come out as a gay educator.