Press Releases
MƒA Admits Most Racially Diverse Cohort in Fellowship History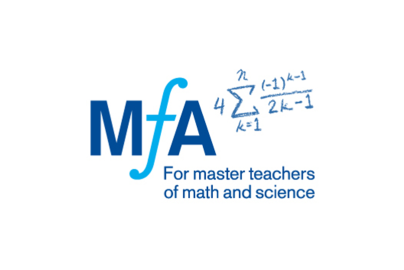 More than half of 162 incoming K-12 NYC mathematics and science teachers identify as teachers of color
More than half of 162 incoming K-12 NYC mathematics and science teachers identify as teachers of color
Math for America (MƒA) today announced that it has awarded 162 new four-year fellowships to K-12 mathematics and science teachers across 133 New York City public schools. Teachers of color make up more than 50 percent of the incoming cohort, which is the most racially diverse in MƒA history. After a challenging year for teachers caused by the COVID-19 pandemic, MƒA is entering the 2021-2022 school year with a total corps of nearly 1,000 STEM Master Teachers who are deeply committed to continued learning and professional growth. 
Image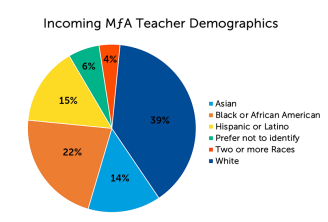 "We're very pleased to see these results," said MƒA President John Ewing. "We also recognize that there is more work to be done, and we will continue working towards improving our racial diversity over time."       
MƒA made special efforts to increase the number of teachers of color in its fellowship program over the past several years. In 2019, MƒA convened an Equity Advisory Committee, composed of teachers and staff. One of the efforts of the committee was to develop new initiatives aimed at getting the word out to teachers of color and encouraging them to apply and submit applications.   
"Our admissions data show that teachers of color are accepted at similar rates compared to their white colleagues," said MƒA Chief Operating Officer Michael Driskill. "Our challenge is to encourage more teachers of color to apply, and I am excited that we are starting to find ways to meet that goal."
"MƒA fosters a teacher-centered environment that enables us to stay in the classroom and engage in high quality professional development that improves learning outcomes for our students," said Arah Lewis, an MƒA Master Teacher who participates on the EAC and teaches middle school mathematics at the Eagle Academy for Young Men in the Bronx. "And the only way to ensure the most qualified applicants are being awarded MƒA fellowships is by providing equitable access to the application process. Dedication to equity is dedication to high quality education." 
MƒA teachers teach in over 400 New York City public schools, representing approximately 10 percent of the city's STEM teaching population. They're a part of a professional community where they explore cutting-edge content, innovative teaching practices, and research-based professional development models. They bring what they learn back to their school communities, resulting in increased student learning and better teaching and professional development in schools. 
MƒA teachers receive $60,000 in stipends over four years of the fellowship. MƒA Master Teachers can be granted a second (or more) fellowship to focus on leading from within their classrooms and within MƒA to support the learning and professional growth of other teachers in the city. 
2021 By the Numbers
Nearly 1,000 MƒA Teachers in more than 400 NYC Public Schools
More than 700 high school teachers
Nearly 200 middle school teachers
More than 50 elementary school teachers
More than 400 teach math 
More than 500 teach science 
Borough Breakdown
Nearly 200 teach in the Bronx 
More than 250 teach in Brooklyn 
More than 350 teach in Manhattan 
Nearly 150 teach in Queens 
Nearly 30 teach in Staten Island