Press Releases
Math for America Names Maria Klawe as Next President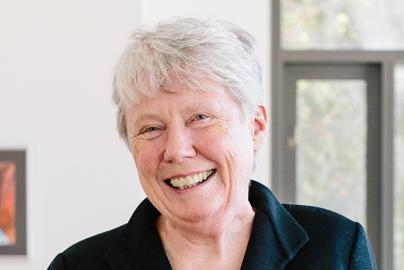 NEW YORK, NY – Nationally renowned computer scientist, mathematician, and scholar Maria Klawe has been selected as the next president of Math for America (MƒA). She begins the position later this year, after completing 17 years as president of Harvey Mudd College in Claremont, California.
Klawe succeeds current MƒA president John Ewing, who is retiring at the end of 2023 after serving as president for 15 years. 
MƒA founder and Board Chair, Jim Simons, expressed his enthusiasm: "The MƒA model has enormous potential to improve math and science education in the future, and we are all delighted that someone of Maria Klawe's stature and ability will take on its leadership, especially at a crucial time when the model may spread to a national program."
Klawe became the first female president of Harvey Mudd College (HMC) in 2006. During her 17 years there, Harvey Mudd achieved national and international recognition as a leader in increasing diversity in STEM. The percentage of female students at the college increased from 30% in 2006 to 50% in 2022, and the college graduated majority female classes in computer science, engineering, and physics during that time. During the same time period, diversity increased from under 1% Black or African American to 7% and from 5% Hispanic to over 20%. 
In addition to advances in diversity and inclusion at HMC, Klawe led the college through its first major fundraising campaign in more than 25 years, surpassing its goal of $150 million to raise more than $175 million as part of "On a Mission: The Campaign for Harvey Mudd College."
Prior to joining HMC, Klawe served as dean of engineering and professor of computer science at Princeton University. Klawe joined Princeton from the University of British Columbia where she served as dean of science from 1998 to 2002, vice president of student and academic services from 1995 to 1998 and head of the Department of Computer Science from 1988 to 1995. Prior to UBC, Klawe spent eight years with IBM Research in California, and two years at the University of Toronto. She received her PhD (1977) and BSc (1973) in mathematics from the University of Alberta.
"I'm thrilled about the opportunity to join Math for America as president. I love its mission, and I love the opportunity to contribute to the success of the new national program."
Klawe has served on the board of MƒA since 2007. She is also a member of the boards of the American Association for the Advancement of Science and Glowforge; chair of the board of the nonprofit EdReports.org; a trustee for the Simons-Laufer Mathematics Institute in Berkeley; and a fellow of the American Academy of Arts & Sciences, AAAS, ACM, AMS, AWM and CIPS.
Klawe is the recipient of the 2014 Women of Vision ABIE Award for Leadership and was ranked 17 on Fortune's 2014 list of the World's 50 Greatest Leaders. In 2015, she was honored with the Lifetime Achievement Award from the Canadian Association of Computer Science and the Achievement Award from the American Association of University Women, and she was inducted into the U.S. News STEM Solutions Leadership Hall of Fame. Klawe was honored by the Computing Research Association's 2016 Distinguished Service Award. In 2017, she was awarded the Academic Leadership Award from the Carnegie Corporation of New York.
MƒA was founded in 2004 as an organization committed to teachers. It offers a four-year, renewable fellowship to highly accomplished mathematics and science teachers in New York City, with selection based on content knowledge and pedagogical skill. Teachers participate in a vibrant community of scholars who take (and give) workshops in content, pedagogy, or almost any topic of professional interest to STEM teachers. Teachers receive an annual stipend of $15,000 during the fellowship.
MƒA also advocates for its model elsewhere. Its fellowship is based on the belief that collaboration, continued learning, and genuine respect not only enables teachers to grow professionally but also makes a teaching career more attractive. MƒA serves as a model for the future of the profession, to show how it might evolve. Its teachers inspire their colleagues, motivate their students, and change lives in the process.
MƒA in New York City currently has over 900 teachers in its fellowship, about evenly divided between math and science, in nearly 400 schools. They constitute roughly 10% of the City's STEM teachers. Each academic year, MƒA offers nearly 1000 workshops for teachers, indirectly affecting more than 100,000 students.