Teacher Voices
Creating Stability in a Transient Space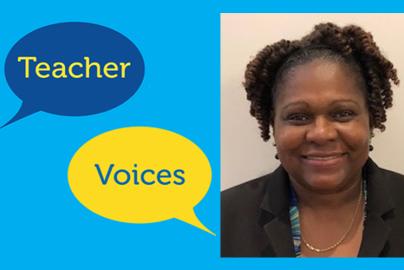 By MƒA Master Teacher Dale Hart
For nearly eleven years, I have been a mathematics teacher in a Juvenile Detention Center for the New York City Department of Education (NYCDOE), in partnership with the Agency for Children's Services (ACS) and Department of Youth and Family Justice (DYFJ).
Years ago, when I accepted the position, I was fully aware that I would be held to the same standards as a NYC certified teacher in a traditional setting, observed and evaluated based on the same Danielson rubric. I would also need to restructure my teaching pedagogy to incorporate one of the school's main objectives: increasing the Algebra Regents Exam pass rate. The fact remains: I'm responsible for educating teenagers who have been arrested for a variety of crimes and are awaiting trial.
As expected, security clearance in this setting differs from that of a traditional school. Teachers undergo rigorous security clearance upon entry with the rules and regulations constantly changing. I begin every day by waiting on a line for twenty or more minutes, my belongings and my person subject to search. This is extremely frustrating because not only do the rules vary from day to day, but the time I spend waiting on line can cause me to be classified as late if I am not in my classroom by 8:20. One day one might be allowed to wear a sweater, and the next day they may have to remove it and leave it in their locker.
Each day, I receive a dynamic list of the students assigned to my class. A vast majority of my students are not in attendance on a regular basis, have enormous gaps in their education, are not on grade level, often having experienced complex trauma, and are classified as English Language Learners.
To address the problems which arise from this, the DOE administration constantly alters teachers' schedules, creating little consistency with the students and their placement with a particular teacher. This decreases the ability for the teachers to build rapport with their students.
Sometimes I have a special education certified team teacher, but quite often, I am the only teacher in the classroom. Combined with the wide range of academic requirements of my students, this has necessitated a high level of creativity in my approach to pedagogy and classroom management. My strategy is to prepare lessons that cater to each individual, as grade levels of students in my class can range from 7 – 12.
In order to remove the opportunity barriers for this uniquely transient population, and increase the academic support that is required, my vision is to always have two math teachers and a special education teacher in the classroom. This would allow various levels of students to access curriculum at the appropriate level. It is also imperative that students have access to textbooks. They have access to textbooks in the classroom, however, for security reasons they are not allowed to bring the heavy, hardcover books back to their living quarters. This limits their ability to do homework and study during the time they are not in school.
Discipline and how it is addressed is also a major concern. Unlike the traditional school setting, the DOE does not operate with a Dean of Discipline. Instead, it is incumbent on the teacher and the DYFJ staff to keep a student in the classroom during a conflict. If there is a physical altercation or damage to property, I can write an observation or incident report. Due to security concerns, teachers are unable to interact with students individually and opportunities are lost to clarify academic and behavioral issues. In comparison, in a traditional school, a teacher can ask to speak to a student after class to address their individual needs and to clarify and resolve conflicts.
School may be the only positive experience that these students have while incarcerated, but it is a challenge to convince students to take the Regents Exam. To be successful, I think outside of the box. While dangerous, sometimes this involves going to their Halls (living quarters) to prep them. Sometimes I go to the gym during their recreation time to discuss a new topic. Other times, I offer incentives, such as extra snacks (with permission from the appropriate authority, since this is considered contraband) and a special treat for those who are successful in passing their exams.
Good outcomes for students also involve building relationships with the stakeholders and the parents. For example, I might need others to intervene to reschedule a student's court date if there is a conflict with the Regents exam schedule. One student in particular comes to mind, as they were able to benefit from a schedule change. The ACS and DYFJ were able to arrange for them to attend court and return in time for the exam, which the student subsequently passed. The joy that students express after achieving something that they thought was impossible to do, is touching to me, even after all of these years.
As for the students and their transition back into society, there is no formal system that addresses restorative justice. Teachers in the traditional setting need to understand that most of the students will return to their neighborhood schools and the status quo requires that they are treated as if they were never incarcerated. 
Finally, the dedicated teachers who work in this taxing environment do the best they can with the resources they have. However, the system is broken, and neither the students nor the teachers can achieve their full potential. As for me, I try to continue to be a positive role model for my students and serve them to the best of my ability in a system that is extremely challenging.