In the News
Building a Community of Excellence in STEM Education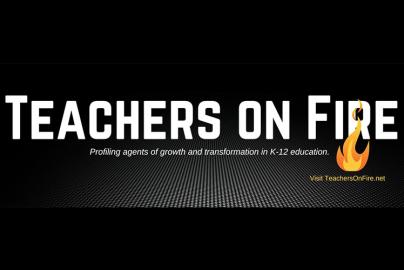 "When you trust teachers, magical things can happen."
During a livestream on Facebook, Twitter, and YouTube, MƒA President John Ewing, along with MƒA Master Teachers Vielca Anglin, Jude Julien, and Brian Palacios, joined the Teachers on Fire podcast roundtable to talk about all things MƒA. Host Tim Cavey, who through this podcast promotes agents of growth and transformation in K-12 education, interviewed the group about what MƒA is and does for teachers, diving deep into how leading and learning within a professional community positively impacts teachers' and the teaching profession. 
Ewing talked big picture about what makes MƒA's PD model unique and different from other organizations:
"MƒA teachers are those who are fully engaged in their subject, incredibly dedicated to their students, and are always thinking of better ways to do things. That's the way a profession is supposed to work. That's the way great professions work: colloquia and seminars and bringing people together to keep learning. That's the kind of environment MƒA is providing. 
The purpose of MƒA is not to fix teachers. This doesn't mean they don't get better - they do get better. We want to keep them teaching longer and if by being in an exciting, vibrant, energetic community like MƒA means they're tempted to stay teaching longer then we've done something for the schools and the students."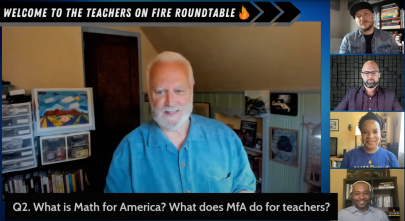 Vielca, Jude, and Brian shared what the MƒA experience looks like for teachers in the fellowship, discussing the impact it's had on them professionally, as well as on their schools, students, and communities:
"MƒA is very much a choose-your-adventure experience for teachers. You find things you're curious to learn about further, or propose your own ideas that you can lead and facilitate for others… I'm always hyped up and jazzed from MƒA's professional learning, and I take it back to my classroom, trying out new skills and maneuvers and using others as a sounding board for what's next." - Vielca
"Many organizations will tell you to respect teachers, and pay them more, and honor them, but sometimes that's where it stops. MƒA is like 'we're actually going to do this.' They elevate the significance and the importance of teaching... It's for teachers, by teachers. The culture, the professional experiences are all shaped by the teachers. It's incredibly refreshing to be a part of." - Jude
"Whenever I leave an MƒA workshop or event, I always leave with new ideas. I always leave with inspiration. I always leave with some sort of spark. It automatically trickles down to my students... And MƒA has been an idea incubator for me. I take ideas from MƒA and to MƒA; I workshop it with the community and then bring it to a larger audience, not just my classroom but to places like local and national conferences." - Brian
Watch and listen to the entire roundtable discussion on the Teachers on Fire podcast.