Press Releases
Brooklyn and Queens Teachers Win Prestigious MƒA Muller Award with $20,000 Prize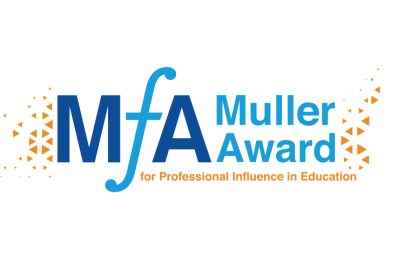 I.S. 223 Montauk and Bayside High School also awarded $5,000 each
Math for America (MƒA) today announced that middle school science teacher Sarah Slack, who teaches at I.S. 223 Montauk in Brooklyn, and high school mathematics teacher Bobson Wong, who teaches at Bayside High School in Queens have each been awarded the 2022 MƒA Muller Award for Professional Influence in Education. This honor is given to two New York City public school teachers who, during their tenure as MƒA Master Teachers, have influenced the teaching profession in exceptional ways.
Slack and Wong will each be recognized for their impact on the teaching profession and awarded $20,000 during an award ceremony on Tuesday, October 18, 2022. In addition, $5,000 will be awarded to each teacher's school. The reception begins at 4:30 p.m. at the Gerald D. Fischbach Auditorium at 160 Fifth Avenue in New York City, with the award ceremony to follow at 5:30 p.m. 
These awards are made possible by financial support from MƒA Board Member Peter Muller and his family through their Dancing Tides Foundation.
"Both of these spectacular teachers have profoundly influenced their profession in multiple ways," said John Ewing, MƒA's President. "That means it's not just their students but thousands more who benefit."
MƒA Muller Award for Professional Influence in Education Winners
Sarah Slack, 7-year MƒA Master Teacher
Sarah Slack has taught science and STEM in Brooklyn for the past 13 years, most recently at I.S. 223 Montauk. Slack is a leader in every part of her professional life. She has participated in numerous programs that have supported growth in both her practice and her science content knowledge, including the Resilient Schools Consortium, the Middle School Science Leadership Team, the Billion Oyster Project, and the Citizen Science Teacher Experimentation Program. 
Slack is co-chair of the NYCDOE's Climate Education Leadership Team, where she works to engage more students and teachers in efforts to understand how communities can build resilience in the face of a changing climate, and was a founding member of the NYC Climate and Resilience Education Task Force, which provides resources for teachers at all grade levels in NYC schools. She was the only middle school teacher to be part of NASA's research team examining the impact of changing climate on urban environments. She spent three months in Antarctica doing research to connect her students better to exciting polar science. She has presented on related topics at NSTA, AGU, and NAAEE conferences.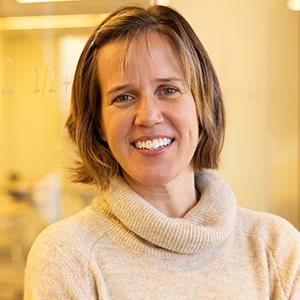 Slack earned her B.S. in Biology from Kalamazoo College and M.S. in Plant Biology from the University of Minnesota, and worked in environmental education before joining the NYC Teaching Fellows program in 2009.
Slack is being awarded for constantly striving to learn new knowledge and new approaches to learning, and for modeling what true leadership means.
"I'm immensely gratified to be receiving the MƒA Muller Award, not only for honor, but also because it is an acknowledgment of the essential role teachers play in empowering future leaders to steer our communities away from a climate catastrophe," said Slack.
"I am constantly inspired by the curiosity, sense of personal agency, and critical thinking skills I see building in my students, and even more encouraged knowing there is a growing cohort of teachers who are dedicated to improving science education and climate education in particular."
Bobson Wong, 13-year MƒA Master Teacher
Bobson Wong has taught mathematics in New York City public high schools for 18 years, with the past 17 at Bayside High School. As an educational specialist for the New York State Education Department, Wong has designed innovative curricula and assessments that are widely used. He has played a key role in reviewing the Common Core Mathematics Standards and graduation requirements in New York.
Wong is a leader in the profession. He regularly speaks at state and national conferences and is quoted in news articles related to math education. He is the co-author of two books that provide deep understanding of mathematics teaching to others: The Math Teacher's Toolbox (Jossey-Bass, 2020) and Practical Algebra: A Self-Teaching Guide (Jossey-Bass, 2022). He is currently the chair of the Nominations and Elections Committee of the National Council of Teachers of Mathematics.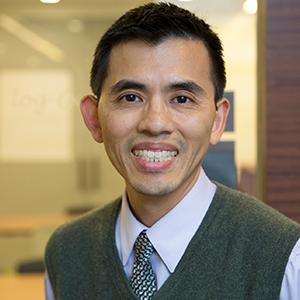 Wong's educational background includes degrees from the Bronx High School of Science, a B.A. in history from Princeton University, an M.A. in history from the University of Wisconsin-Madison, and an M.S.Ed. in adolescent education, mathematics from St. John's University. He tweets regularly at @bobsonwong.
Wong is being awarded for his mastery of teaching and his many roles as a professional who influences both current and future teachers.
"I am deeply honored to receive the MƒA Muller Award. This award reflects not just my efforts but the work of a community that respects the professional expertise of educators so that we can work together to improve math education," said Wong.
"Over the years, my colleagues have helped me realize that math should be taught as a language that all students can access. When we teach students how to read, write, and speak math, they strengthen their mathematical confidence and can use it to improve the world."
An External Committee selected the finalists for the award by considering the nominees' contributions to the math or science teaching profession, including their ability to have a positive impact within their school community and drive change outside of their own classroom, leadership within the broader math or science community, and influence on inspiring other teachers to stay in the profession. A committee of the MƒA Board of Directors chose the two winners, one in math and one in science.
The External Committee is comprised of experts in mathematics and science education, including:
Sylvain Cappell, Professor of Mathematics, Courant Institute of Mathematical Sciences, NYU
Jeanne Garbarino, Director of Science Outreach, Rockefeller University
Po-Shen Loh, Professor of Mathematics, Carnegie Mellon University
Latasha Wright, Chief Scientist, BioBus
The MƒA Muller Award for Professional Influence in Education is awarded annually to two teachers, in math and science, who have taken a prominent role as leaders among the MƒA teacher community and beyond. Read more about the award and past winners here.