Workshop Spotlight
2021 MT²: Master Teachers on Teaching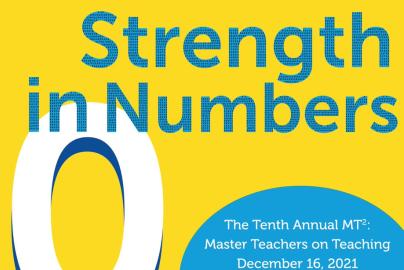 Over 200 MƒA teachers tuned in to watch the 10th Annual MƒA MT²: Master Teachers on Teaching virtual event, which happened in December 2021. Through inspiring and thought-provoking TEDx-style talks, five MƒA Master Teachers explored what this year's theme - "Strength in Numbers" - means in their classrooms and beyond. Similar to past MT² events, the presentations focused on facing hardships, overcoming adversity, and self-discovery. You can now watch each MƒA Master Teacher talk below.
Ursula Lovings
In her talk, "The Unexpected Life," MƒA Master Teacher Ursula Lovings (All City Leadership Secondary School) shares an honest and powerful account of her journey as a foster parent and how this experience intertwined with her life as a teacher.
Joshua Paugh
MƒA Master Teacher Joshua Paugh (Brooklyn Technical High School) believes numerical values have the strength to get people thinking about issues more deeply. In his talk, "Numbers: Putting Things into Perspective," he examines how numbers add perspective to help understand topics ranging from physics to social justice.
Melanie Pflaum
What allows a teacher to create waves of real growth and not just mastery of algorithms? Rituals, says MƒA Master Teacher Melanie Pflaum (Bard High School Early College). In her talk, "Ripples: We Don't Get to See Where Our Work Leads," Melanie pays tribute to a wonderful teacher while reflecting on how a teacher creates lasting effects.
Jessica Cimini-Samuels
After nearly eight years as a science teacher, MƒA Master Teacher Jessica Cimini-Samuels (Marsh Avenue School for Expeditionary Learning) started to feel stagnant in her career. In her talk, "Space Nerds," she recounts her journey to finding her "pedagogical people" and the renaissance it caused in her classroom.
Sarah Slack 
In MƒA Master Teacher Sarah Slack's (J.H.S. 223 The Montauk) talk, "Teaching About Climate Change to Save the World," she explores the reasons we aren't teaching about climate change and shares an important message on why and how this needs to shift.