Rescue: Stories About Taking Care of Others
In the News | October 19, 2018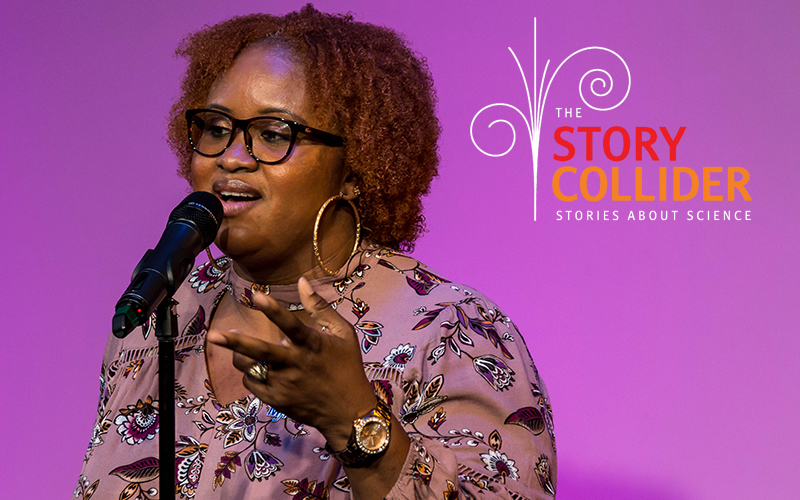 Giselle George-Gilkes is the final MƒA Master Teacher to have her MƒA Thursday Thinks/Story Collider talk highlighted in The Story Collider Podcast. Earlier this year, MƒA collaborated with The Story Collider, a nonprofit dedicated to true, personal stories about science, to host an MƒA Thursday Thinks event that featured an evening of MƒA teacher storytelling. Teachers from across the MƒA community and others in NYC education gathered at Caveat, an intellectual speakeasy in the Lower East Side of Manhattan, to hear six MƒA teachers share life lessons about mathematics, science, and teaching.
The October 19th Story Collider Podcast focused on taking care of others and times when science and math can come to the rescue. In MƒA Master Teacher Giselle George-Gilkes' story, she opens up about coping with personal grief while teaching – and the unwavering support she found through her teacher community. Here are a few excerpts:
"Sometimes I feel like, as teachers, we can't have bad days, we can't have bad weeks, we can't have bad lives. We must always be ready to step upon that stage of a classroom."
"It's hard. I try to cope with my grief every day as best as I can. But one thing I know is I would not have been able to make it through (a traumatic experience) without my biological family nor without my family at East Side Community High School. At the end of the day, all I can say is they are my rock."
Listen to the episode and read Giselle's full transcribed story here.