MƒA at SXSW EDU
In the News | January 29, 2018
MƒA is thrilled to have a presence at SXSW EDU this year. MƒA Executive Director Megan Roberts will explore the impact of professional teacher communities in a Future20 session entitled, "What Makes a Teacher Community Excel?"
On March 7, 2018 at 2:30 p.m., Roberts will deliver a 20-minute presentation that dives deep into the characteristics of professional development communities for STEM (Master) teachers, discussing the impact on them as individuals and on their schools.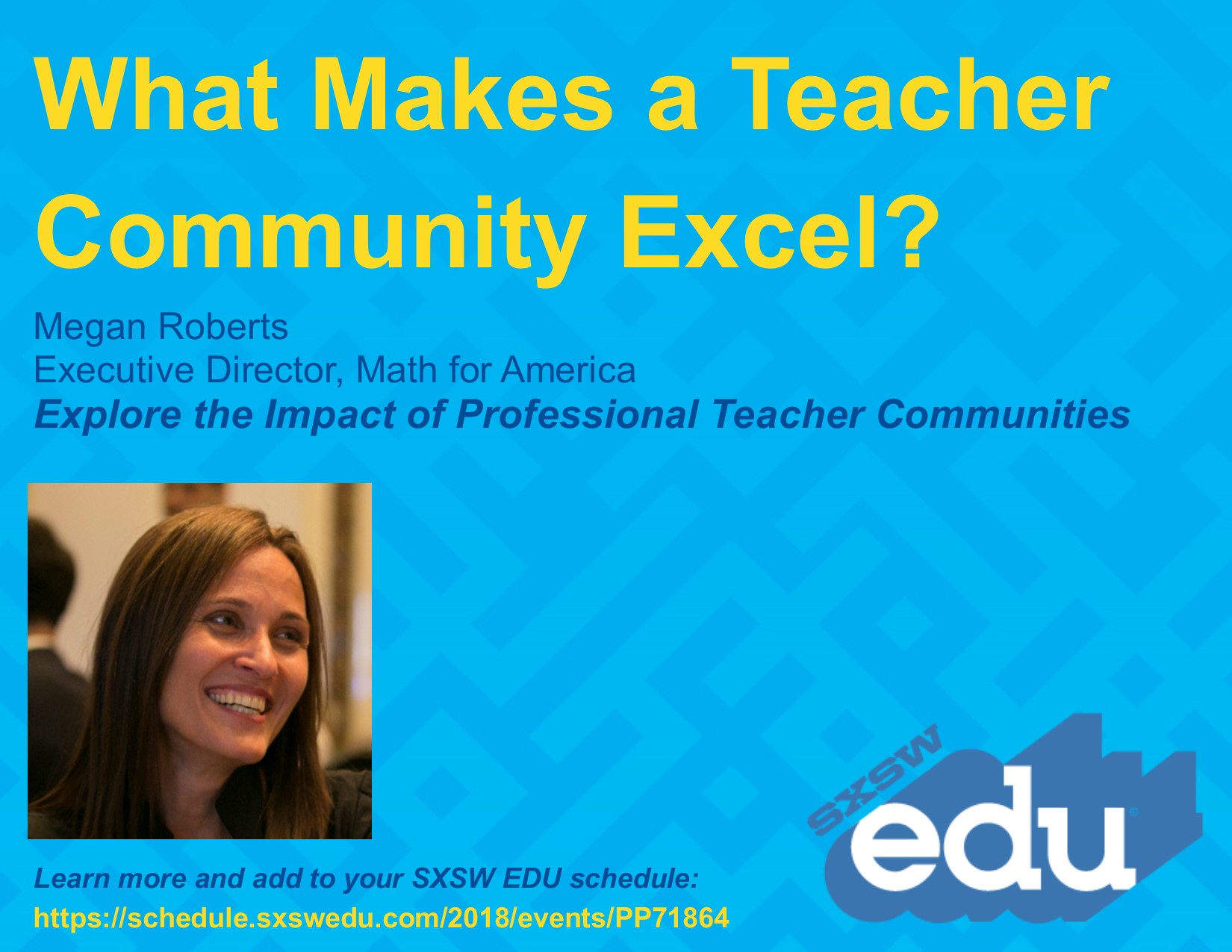 Attendees will hear how to design learning experiences that are rooted in collaboration and peer-to-peer reflection, as well as focused on an increase in self-efficacy, and ultimately, teacher retention.
Roberts will present processes for designing these communities, as well as report on outcomes, all of which can be applied to various educational settings. Specific design principles for professional development will illustrate how teacher-to-teacher interactions and content-specific collaboration can transform learning and advance teachers' focus on their craft.
"What Makes a Teacher Community Excel?" will be held in Room 19B at the Austin Convention Center from 2:30 – 2:50 p.m. CST on March 7, 2018. SXSW EDU is held from March 5 – 8, 2018 in Austin, TX.
If you've registered for SXSW EDU, you can sign in to your account and add our session to your favorites and schedule by clicking the star icon on our session page. Connect with us on EDU social by searching for "Megan Roberts" once you're logged in and then starring or sending a direct message.
Will we see you there? Let us know.