MƒA to Celebrate Teaching Profession, Honor Top STEM Teachers at 13th Annual Fall ƒunction
Press Releases | November 7, 2019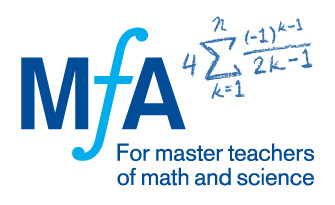 WHAT: Not a fundraiser, but a celebration, the Math for America (MƒA) 13th Annual Fall ƒunction is a special event that recognizes teaching as a true profession and pays tribute to outstanding public school teachers who innovate STEM education from the ground up. With all the focus on what's wrong in education, this event focuses on what's right: a professional community of outstanding teachers who collaborate and inspire one another. These teachers bring what they learn back to their classrooms and schools, making an impact on their students and the profession at large.
The MƒA Fall ƒunction recognizes the entire MƒA community of over 1,000 NYC teachers who are pushing the boundaries of science and mathematics at MƒA and beyond.
Following a cocktail reception and dinner, the event will feature speeches by Robbert Dijkgraaf, Director of the Institute for Advanced Study and Leon Levy Professor, and MƒA Master Teacher Sendy Keenan, a high school mathematics teacher at Frederick Douglass Academy. Dijkgraaf will engage teachers in their content area, delivering a presentation on how the geometry of space and time determines the origin, composition, and fate of the universe, from the Big Bang to black holes. Keenan will share powerful stories about her MƒA experience, reflecting on being part of a community filled with passionate mathematics and science educators who take part in and lead transformative learning experiences. 
Additional speakers include MƒA Founder and Board Chair Jim Simons, MƒA President John Ewing, and MƒA Chief Operating Officer Michael Driskill.
WHERE: New York Marriott Marquis, 1535 Broadway, New York, NY 10036
WHEN: Saturday, November 9, 2019 at 7 p.m.
WHO:   Robbert Dijkgraff, Institute for Advanced Study Director and Leon Levy Professor
Jim Simons, MƒA Founder and Board Chair
John Ewing, MƒA President
Sendy Keenan, MƒA Master Teacher
About Math for America: At MƒA, we've created fellowships for accomplished mathematics and science teachers. Our model is based on the belief that collaboration, continued learning, and genuine respect enables teachers to grow professionally and provides long-term career satisfaction. This is a remarkable community of teachers who stay in the profession longer and define what teaching excellence means. These are teachers who inspire and motivate their colleagues. They change the lives of their students.