Loneliness: Stories About Finding Friends
In the News | July 27, 2018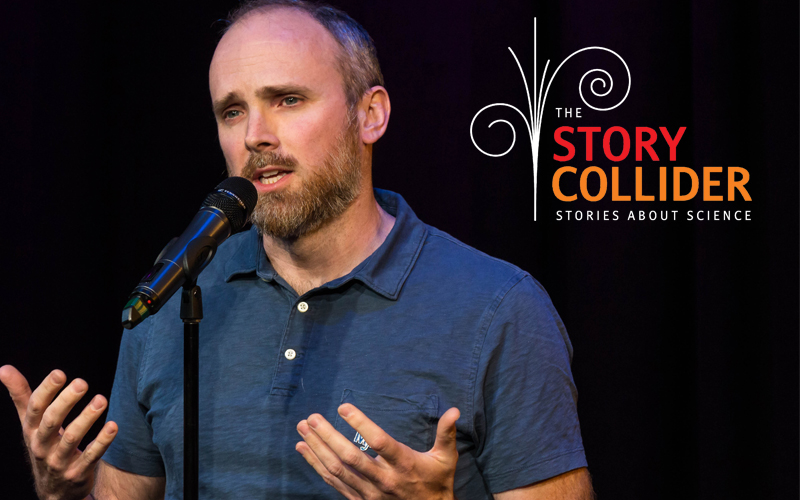 Patrick Honner is the second MƒA Master Teacher to have his MƒA Thursday Think/Story Collider talk highlighted in The Story Collider Podcast [Read more on MƒA Master Teacher Sage Forbes-Gray's episode about responsibility here]. In May, MƒA collaborated with The Story Collider, a nonprofit dedicated to true, personal stories about science, to host an MƒA Thursday Thinks event that was an evening of MƒA teacher storytelling. Teachers from across the MƒA community and others in NYC education gathered at Caveat, an intellectual speakeasy in the Lower East Side of Manhattan, to hear six MƒA teachers share life lessons about mathematics, science, and teaching.
The July 27th Story Collider Podcast focused on how science and math can be lonely, but also can connect us in ways we'd never imagined. MƒA Master Teacher Patrick Honner's story is about the ups, downs, and everything in between during his lifelong relationship with mathematics. Here are a few excerpts:
When I started teaching I assumed that I would quickly get tired of talking about linear equations and probability formulas and geometry proofs but just the opposite has happened. I have a much better relationship with math now than I've ever had. I have my students to thank for that. Seeing math through their eyes has once again filled me with wonder. 
Through teaching, I've rediscovered my love of math. And I'm right back out there at the edge of human knowledge. It's not the edge of humanity's knowledge but it's the edge of our knowledge: mine, my students, my colleagues. 
And it's not lonely out there because we're out there together. We're exploring. We're playing. We're arguing. We're collaborating. Far from being lonely, it's kind of like a party. A party at the edge of human knowledge, and I brought the math.
Listen to the episode and read Patrick's full transcribed story here.