Help: Stories About Desperate Situations
In the News | August 20, 2018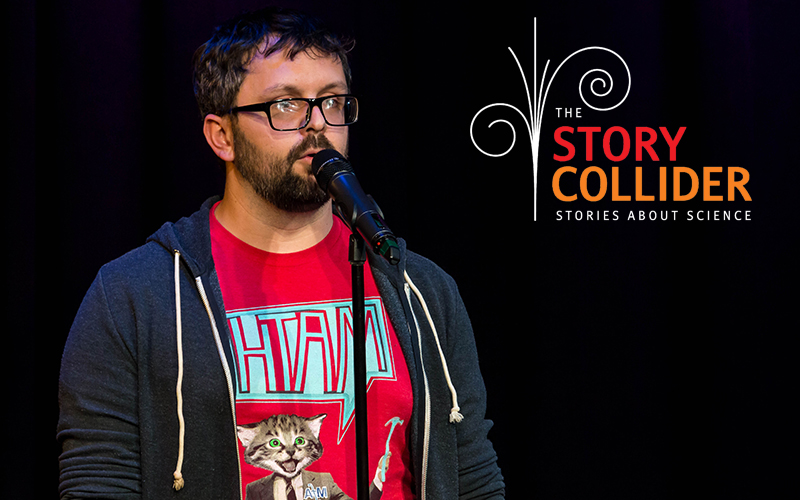 In our continued collaboration with The Story Collider, MƒA Master Teacher Matt Baker's Thursday Think talk was highlighted on an episode of the Story Collider Podcast. This spring, MƒA teamed up with The Story Collider, a nonprofit dedicated to true, personal stories about science, to host an MƒA Thursday Thinks event – a night of storytelling from MƒA teachers. At Caveat, an intellectual speakeasy in the Lower East Side of Manhattan, the MƒA community and guests came together to hear six MƒA teachers share their experiences with mathematics, science, and as teachers.
The August 17th Story Collider podcast featured stories focused on moments of feeling overwhelmed and alone. MƒA Master Teacher Matt Baker's experience is highlighted as a struggling first-year math teacher, sharing the challenges he faced in his school and how crucial it was for him to find the supportive teacher community of MƒA. Here are a few excerpts from his talk:
I realized […] that teaching is a team sport. None of us can do this alone. You need to find yourself an administrator that understands. You need to find yourself a department that will go out to dinner with you and laugh at jokes. 
You need to find yourself a community of educators, like Math for America or my online teaching community who I can reach out to and say, "I'm teaching exponentials tomorrow and I have no idea what that looks like."  And they give you thirty responses in thirty minutes. 
You need to find a group of people who you can say, "I just had the worst lesson of my life," and they will just say, "Yup. Been there. That sucks." And they'll listen and they'll help. 
Listen to the episode and read Matt's full story transcript here.