Circles: Stories About Coming Back Around
In the News | March 8, 2019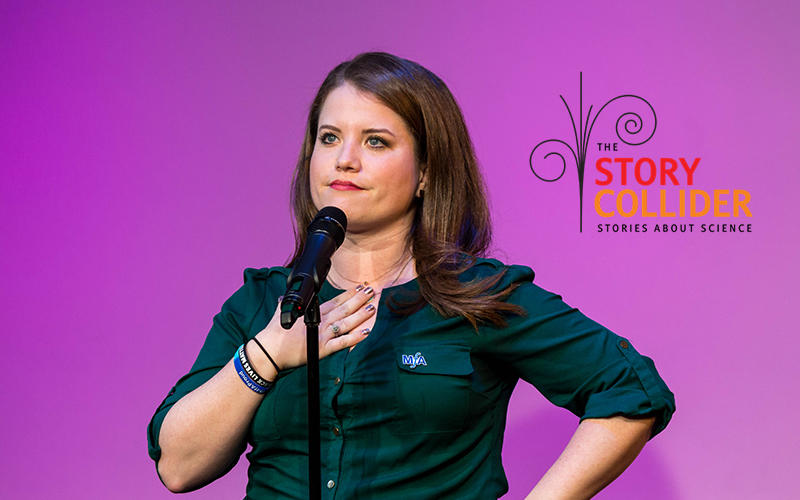 As we get ready for our second MƒA Thursday Thinks / Story Collider collaboration this May, we look back at MƒA Master Teacher Brittany Beck's talk from the spring 2018 event, now highlighted in The Story Collider podcast.
The March 8 Story Collider podcast focused on times in which everything came full circle. Brittany Beck, MƒA Master Teacher, shared a story about her personal fight against the stigma of mental health, teaching her students that it's okay to struggle with anxiety. Here's a look at Brittany's story in her own words:
"I was sitting talking with the kids and suddenly the world went black. I woke up and I remember feeling really tired and very confused but, honestly, my first thought was, "I'm only a second-year teacher in this building. What's the proper protocol for when you pass out in class?"  I still don't know."
"It's why, when I went back to school, finally, I made the next unit of my academic writing class all about mental health and then worked with a team of teachers at my school to develop a year-long health course. I know I would be a different person today if I'd learned about and de-stigmatized mental health disorders and I don't want my students to have the same ignorance that I did."
MƒA will once again team up with The Story Collider, a nonprofit dedicated to true, personal stories about science, to host an MƒA Thursday Thinks event featuring an evening of MƒA teacher storytelling. On May 2, teachers from across the MƒA community and others in NYC education will gather at Caveat, an intellectual speakeasy in the Lower East Side of Manhattan, to hear MƒA teachers share life lessons about mathematics, science, and teaching. MƒA teachers can register for the event on the Small-World Network. Registration for other guests will open in April.
Listen to the episode and read Brittany's full transcribed story here.